Update on ADA Efforts to Enhance the CDT Code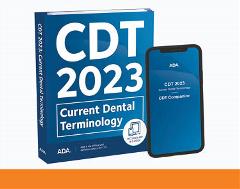 The American Dental Association (ADA) announced June 20 that efforts to make the CDT Code more robust will move forward without the addition of procedure code modifiers.
More than 325 comments were received during the ADA's recent open comment period, which sought to collect feedback on the proposed framework of a CDT Code that would include modifiers.
In a March 30, 2023, letter to the ADA's Council on Dental Benefit Programs (CDBP), AGD President Dr. Hans P. Guter advised that AGD remained neutral on the effort to enhance the CDT Code because there are too many unknown factors. That letter outlined concerns expressed by AGD's Dental Practice Council regarding the CDT Code in its current format and included questions and suggestions related to the effort to enhance the CDT Code.
Read the
full letter
.