Listen to the AGD Podcast
by

AGD Staff

Jun 26, 2023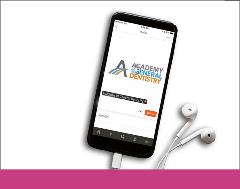 Stay informed on the latest in dentistry by tapping into new perspectives from leaders in dentistry. Recently, AGD Podcast Series host George J. Schmidt, DMD, FAGD, talked with Tarun "T-Bone" Agarwal, DDS, who focuses on clinical excellence, patient-centric business management models and supporting a dental team empowered to embrace an ownership mentality. He wants to help dentists work smarter, not harder.
Listen here
.
Also, don't miss the interview with Michael Abernathy, DDS, who talks about the importance of data and benchmarks to ensure practices are running smoothly. He emphasizes the importance of measurements to ensure general dentists set realistic goals and keep their focus on achieving them.
Listen here
.
Check out the full list
of podcast episodes, and listen regularly.