AGD Impact Helps New Dentists Find Their Way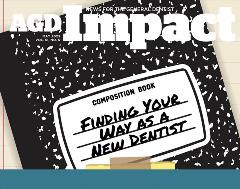 The May issue of
AGD Impact
is now live! In it, you can find an invaluable guide for new dentists on how to jump-start their careers, plus a feature story on how the dental benefits industry could be affected by changes in the medical health insurance industry.
Read all this and more in the
latest issue of AGD Impact
.