Today is National Dentist's Day
by

Hans P. Guter, DDS, FAGD

Mar 6, 2023
Dear Friends,
Today is National Dentist's Day.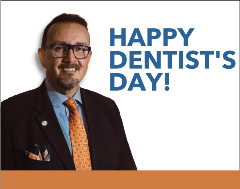 As president of the Academy of General Dentistry (AGD), I am tremendously proud to be part of an organization that brings together general dentists dedicated to continuing education, advocating for the profession and staying up to date on the latest procedures and treatments. Your commitment to delivering exceptional patient care each day exemplifies that commitment.
On behalf of AGD, I want to extend my gratitude to all of the amazing dentists who support good oral and overall health. I am pleased to share this day with so many of my colleagues in dentistry who work to make smiles brighter every day.
I want to wish you, your families and your practices continued success.
Thank you for all you do.
Sincerely,
Hans P. Guter, DDS, FAGD
President, Academy of General Dentistry