Dr. George J. Schmidt Named AGD Podcast Host
by

AGD Staff

Feb 27, 2023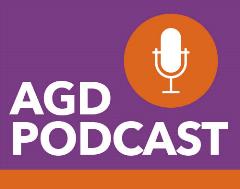 New Jersey dentist and chair of the AGD Scientific Meeting Council George J. Schmidt, DMD, FAGD, has been named as the new AGD Podcast Series host. He replaces Wes Blakeslee, DMD, FAGD, who retired from this role in 2022.
"On behalf of everyone at AGD, I would like to thank Dr. Wes Blakeslee for his tremendous service as podcast host for more than 15 years," said Schmidt. "Wes' contributions are inspiring, and we are grateful for his work to spotlight so many different areas of dentistry. I look forward to continuing Dr. Blakeslee's work and sharing conversations with leaders in AGD and across the dental profession. I hope our listeners will stay tuned."
Schmidt is passionate about dental education and active with AGD. He has served on the Dental Education Council and also lectures nationally on dental implants, restorative dentistry and practice management. He is an adjunct clinical assistant professor in the CDE Implant department at New York University's College of Dentistry, where he also serves as the co-surgical director and teaches other dentists how to surgically place and restore dental implants. He also serves as an adjunct clinical assistant professor at Rutgers School of Dental Medicine in the Department of Diagnostic Sciences.
Schmidt has practiced dentistry in the Hanover Township, New Jersey, area since 1998. He received his dental degree from the University of Medicine and Dentistry of New Jersey. He has been awarded AGD Fellowship status as well as fellowships with the International Congress of Oral Implantologists and the American Dental Implant Association.
Schmidt's first podcast is an interview with Joseph A. Battaglia, DMD, FAGD.
Listen now
.
Wes Blakeslee, DMD, FAGD, Steps Down as AGD Podcast Host and Associate Editor

Wes Blakeslee, DMD, FAGD, has stepped down as the host of the AGD Podcast Series, a role in which he has served for more than 15 years, and as AGD associate editor, a role he was named to in 2020. Blakeslee, a general dentist who practices in New Jersey, also served as a
General Dentistry
Advisory Board member and reviewer.
"I am honored to have been able to launch the AGD Podcast Series and get more involved in the publications as associate editor," said Blakeslee. "I loved every minute but am also looking forward to spending more time with my wife and three kids."
Blakeslee was asked to create the podcast in 2007, using it as a new communications tool to inform general dentists about important topics impacting the profession. He produced more than 160 podcasts during his tenure.
"When I was asked if I would be interested in starting a podcast, a cutting-edge concept back in 2007, of course, I said yes," said Blakeslee. "And then I promptly called my daughter and asked, 'What's a podcast?' I really had no idea what it was but knew instinctively this was an opportunity I shouldn't pass up."
Blakeslee's final podcast was posted in January and featured an interview with oral pathologist Ashley Clark, DDS, FACD.
Listen now
.