10 Dentists to Watch
by

Kelly Rehan

Jan 16, 2023
Dentistry's bright future is already here.
"Technology is changing dentistry" is a phrase often repeated in the profession. It's true — scientific advances are paving entirely new treatment paths in oral healthcare.
But one fact is not changing: The dentist will always be at the heart of dentistry. People are the ultimate changemakers for the profession. In that spirit,
AGD Impact
is proud to introduce 10 dentists at the beginning of their careers who represent the newest generation of exemplary oral healthcare providers. These dentists truly stand out among their peers. In the past,
AGD Impact
has solicited nominations from AGD leaders. This is the first year the magazine has opened the call to all AGD members.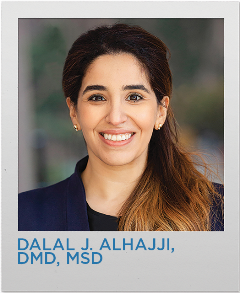 DALAL J. ALHAJJI, DMD, MSD
New York University College of Dentistry, New York City
Five years after earning her dental degree, Dalal J. Alhajji, DMD, MSD, joined the faculty of New York University's (NYU's) Department of Oral and Maxillofacial Pathology, Medicine, and Radiology. She has focused her career on improving dental care access for patients with cancer in her local community.
"More patients are able to see someone like me because more oncologists are now aware of the value of having a dentist on their cancer care team," Alhajji said.
Michael Katzap, DDS, MAGD, DABOI, DICOI, FAAID, nominated his colleague for this year's "10 Dentists to Watch" list, noting how Alhajji regularly meets with medical oncologists at NYU Langone Health to advocate for dentistry's crucial role in the comprehensive care approach to cancer patients.
"I have noticed that significantly more patients with cancer are seeking dental care at the Oral Health Center for People with Disabilities within the NYU College of Dentistry thanks to Dr. Alhajji's efforts," Katzap said.
Alhajji also fights for her patients by educating their insurance companies to ensure critical services are covered. She shared an example of a middle-aged female patient who had a history of oropharyngeal cancer and underwent head and neck radiation therapy.
"She had a chronically infected tooth that was contraindicated for extraction due to her cancer treatment, yet that was the only means of definitively treating this problematic tooth, according to her insurance company," Alhajji explained. "I didn't want her to suffer even more. The extraction could have predisposed her to developing osteoradionecrosis. I intervened, and the insurance company approved a root canal instead, ultimately saving her jaw."
Looking ahead to the next 10 years, Alhajji hopes to influence additional institutions to implement dental oncology in their curriculum, as well as to ultimately encourage more dentists to pursue this career path.
"I'm seeing an accelerated desire from both medical doctors and dentists to work together, and I look forward to a stronger integration between medicine and dentistry to improve outcomes of care for all our patients."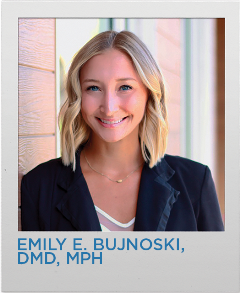 EMILY E. BUJNOSKI, DMD, MPH
Fox McCaffrey Dental Group, Sun City, Arizona
Although Emily E. Bujnoski, DMD, MPH, is just starting her dental career, she primarily cares for an older patient population at her practice in Sun City, Arizona. Her patients are often medically complex, taking multiple medications and physically handicapped.
"I pride my practice on our ability to serve these special needs patients and provide them with the dental care they deserve, even as other aspects of overall health begin to compromise," Bujnoski said.
Working in a 55+ community has afforded Bujnoski a greater appreciation for the unique barriers the senior population faces in achieving good oral healthcare and her role in providing solutions.
"I want to improve access to care for this population in whatever way I can — fighting for more equitable distribution of Medicare reimbursements for dentistry, providing teledentistry services for those who are unable to visit us in-office and improving the setup of our office to ensure comfort for all," Bujnoski said.
Bujnoski was nominated by Rachel J. Malterud, DMD, MPH, who watched Bujnoski's impressive rise in the Arizona AGD, which began when she was in dental school.
"In 2021, she acted as the chair of the Membership Reference Committee and spoke eloquently on the house floor, only a year out of dental school," Malterud said. "Locally, she helps to run the Arizona AGD Fellowship Review Program. During her tenure as Fellowship chair, she has mentored nearly 100 doctors in pursuing their AGD Fellowship."
In the same way she advocates for seniors who are in a different stage of life, Bujnoski also fights for providers with different backgrounds to pursue leadership roles in dentistry. She said her participation in the American Dental Association's Institute for Diversity in Leadership gave her valuable skills that she hopes will change the face of organized dentistry.
"Now, more than ever, dentists are not just men," Bujnoski said. "Dentists are women, people of color and people with nontraditional backgrounds. I am passionate about bringing all of these diverse backgrounds to the leadership table. It is my hope that organized dentistry will become increasingly more diverse and representative of who we are."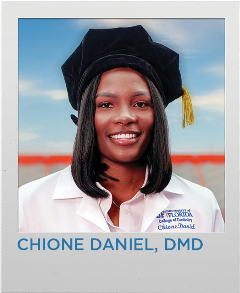 CHIONE DANIEL, DMD
Daniel Dentistry, Miami Gardens, Florida
You'll be hard-pressed to find a dental practice owner as young as Chione Daniel, DMD. She opened her dental office at the age of 26 — less than a year after graduating from dental school.
As the face of her practice, Daniel takes extra care to build relationships with her patients, getting to know them for more than just their teeth.
"Knowing that these patients trust me with their oral health needs and being able to watch their progress is what gets me excited each day," Daniel said.
But Daniel also acknowledged the more difficult revelations of practice ownership; namely, the struggles some face to afford dental care.
"Strategically treatment planning a case that is both affordable and ideal is often a challenge," Daniel said. "I like to educate patients on the importance of oral health and show them the value of their teeth. After understanding the value, they are then able to make the necessary investments in their oral health and overall quality of life."
Being a young practice owner has an added responsibility, Daniel said, as she knows young and aspiring dentists are watching.
"I enjoy being a part of the Miami community, not only as a dentist, but also as a role model to the younger generation," Daniel said. "I plan to continue to assist younger dentists in practice ownership by providing opportunities for partnerships."
Her advice to new dentists? Don't give up on your dreams, but also realize you don't have to go it alone.
"Being connected to specialists who are willing to guide you on difficult cases, classmates you can call to talk about hard days and mentors who can offer advice all make a world of difference," she said.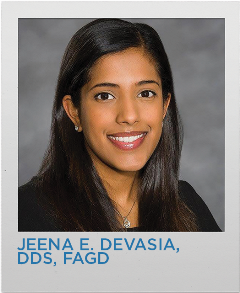 JEENA E. DEVASIA, DDS, FAGD
McLean DDS, McLean, Virginia
When Steven A. LeBeau, DDS, FAGD, offered Jeena E. Devasia, DDS, FAGD, an internship at his dental office after her high school graduation in 2007, he quickly discovered she wasn't the typical intern.
"Within two days, we realized we needed to pay her because she was working, not watching," LeBeau said.
LeBeau, who nominated Devasia, recognized her rising star potential and offered her a job right out of dental school.
"That experience fueled my passion for the field, and I always welcome dental students and interns at the practice," Devasia said. "I'd love to impact the life of a young dentist in the same way that my mentor impacted me."
Devasia extends this caring approach to her patients, and she said patient education is one of the most meaningful aspects of her career.
"The technological advances in dentistry make my job as an educator even easier, so I'm always excited to implement the use of innovative tools in the practice to improve the lives of patients," Devasia said. "Being able to show patients their intraoral pictures or scan to communicate my diagnosis and treatment plan builds trust."
Devasia hasn't waited to get involved in organized dentistry. She earned her FAGD as well as fellowships in the International College of Dentists and the Virginia Dental Association within seven years of graduation. She also received the Virginia Dental Association's New Dentist Award for her contributions to organized dentistry. She currently serves as president of the Virginia AGD and president-elect of the Northern Virginia Dental Society.
Reflecting on what excites her most about the dental profession, Devasia said she appreciates how dentists control the way they practice — a big differentiator from other healthcare professions.
"Dentists practice more like a family than a profession composed of colleagues," Devasia said. "I practice on a floor with three other general dentistry practices, but I know that I can stop by to ask a clinical question or borrow a product that we're low on or have backordered. Our support for each other is the secret to our success."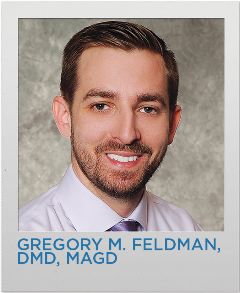 GREGORY M. FELDMAN, DMD, MAGD
Gainesville Dentistry Co., Gainesville, Florida
In 2022 — eight years after graduating dental school — Gregory M. Feldman, DMD, MAGD, opened his own practice, Gainesville Dentistry Co.
"To take the leap of faith and trust myself enough to start my own solo practice has, without a doubt, been one of the most rewarding things I have ever done," Feldman said. "Coming into work every day to help patients achieve amazing results in my own practice has been a thrill for me! We transformed an outdated practice into a beautiful, inviting space and have received high praise from everyone who has come to visit us."
As a young practice owner, Feldman is facing some new challenges, including competition with corporate dentistry.
"Corporations have become adept at disguising themselves as locally owned private practices," Feldman said. "The best way to address this is to provide the highest quality dental care we can and hope that there will always be a space for privately run dental practices."
Although achieving practice ownership was a major goal, Feldman said his proudest professional accomplishment was earning his MAGD only four years out of dental school.
The demands of practice ownership have not deterred Feldman from continuing his dental education. His dedication to continuing education (CE) is the reason Kim Stanley, dental hygienist at Gainesville Dentistry Co., nominated Feldman to the "10 Dentists to Watch" list.
"[Feldman] has already completed over 1,500 hours of CE since graduating in 2014," Stanley said. "He was one of the youngest dentists to earn his FAGD and did so in the minimum amount of time allowed after dental school. The very next year, he earned his MAGD."
What's next for Feldman? AGD's Lifelong Learning and Service Recognition. It's a goal he no doubt enjoys working toward.
"I am extremely passionate about being a continual student of dentistry," Feldman said. "When you love to learn about a subject, it's easy to be excited about adding knowledge every day.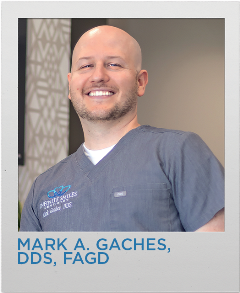 MARK A. GACHES, DDS, FAGD
Infinite Smiles Dentistry, Owasso, Oklahoma
When Mark A. Gaches, DDS, FAGD, opened his own startup practice, he approached it less as a dentist and more as a patient. This patient-focused mentality, he said, is how he combats one of his biggest professional challenges: the rise of corporate dentistry.
"I focus on quality dentistry, not quantity dentistry," Gaches said. "This allows me to have much more time and focus for full-patient care."
To set himself apart from high-volume, corporate practices, Gaches created a dental experience where patients get more from their visits. He offers comfort items like blankets, noise-canceling headphones, sunglasses patients can keep, and movies and music to enjoy during the visit.
"We focus on the patient as an individual and try to reduce wait times to less than five minutes. We don't double or triple book, and we spend more time listening to the patient's concerns," Gaches said.
Gaches' quality-over-quantity approach not only benefits his patients — it also supports his overall health. Noting how burnout is a real threat to dentists, Gaches said his biggest piece of advice for those new to the field is to set your own pace, one that supports both you and your patients.
"Find your happy place in dentistry," Gaches said. "Not every practice has to be the same. You don't have to work six days a week while serving four patients simultaneously to be successful."
In addition to volunteering with Eastern Oklahoma Donated Dental Services and the Oklahoma Mission of Mercy Dental Clinic, Gaches is setting aside time to earn the MAGD designation after achieving his FAGD in July 2022. CE keeps him informed and invigorated in the ever-evolving dental field.
"So many aspects of the dental profession are amazing," Gaches said. "I love solving challenges and problems in new, cutting-edge ways to positively change patients' views of dentistry."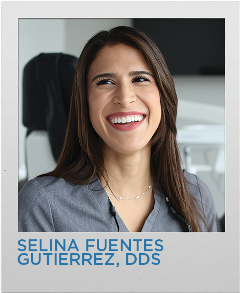 SELINA FUENTES GUTIERREZ, DDS
Inwood Family Dental, San Antonio, Texas
Every "Dentist to Watch" is a leader in the dental field, but how they settled into their leadership role is unique. Selina Fuentes Gutierrez, DDS, attributes her development as a leader to the valuable lessons she learned as an associate dentist in her first years of practice.
Gutierrez credits the book, "The 5 Levels of Leadership," by John C. Maxwell, with helping her understand her role as the new associate dentist in her office.
"When I first started practicing as an associate, I felt I was a leader of my team because I had earned the title and the role to gain their respect," Gutierrez said. "I would lead morning huddles and give my team directions throughout the day but was occasionally met with resistance. I realized I had gained 'positional leadership' but had not yet earned their permission to lead them."
Gutierrez discovered that leadership meant more than position or title. Since then, she has deliberately focused her efforts to connect with her team members, earn their trust and understand their values.
"I wish I would have taken the time to better understand these principles before starting my dental career so I could have been more aware of my role as the leader of my team much sooner," Gutierrez said.
In November 2022, Gutierrez accomplished one of her major goals — purchasing her own dental practice.
"I have been through the acquisition process twice now and have learned from both my successes and mistakes," Gutierrez said. She hopes to be a resource for newer dental professionals looking to acquire a dental practice.
Another goal for Gutierrez is to strengthen her advocacy for those in her community with limited access to oral healthcare.
"I plan to coordinate a yearly free dental service weekend at my office for the underserved communities of Greater San Antonio," Gutierrez said. "My goal is to reach out to the refugee, asylum-seeking and immigrant populations. Many of these individuals do not have proof of residency to receive care at government-funded dental clinics."
Gutierrez's roles as a dentist and leader continue after she leaves her office at the end of the workweek. In her free time, she volunteers at the San Antonio Food Bank preparing meals and lends her expertise by providing free dental treatment and mentoring aspiring predental students.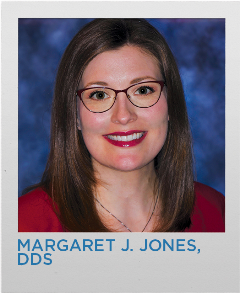 MARGARET J. JONES, DDS
Cassis Dental Center, Fayetteville, West Virginia
Many people understand the importance of at-home dental care, but some patients simply don't know or — worse — don't care. The bulk of the patients Margaret J. Jones, DDS, sees have little knowledge of proper oral hygiene, so she has taken it upon herself to fill in the gaps.
"I hope to improve my community's oral health literacy and be an agent of change who improves oral health among future generations," Jones said.
Bruce L. Cassis, DDS, MAGD, 2020–2021 AGD president, nominated Jones to "10 Dentists to Watch." She is an associate at his practice, and he has seen how "she is a person of high integrity, excellent clinical skills and — just as important — excellent people skills."
It's those people skills that Jones uses to tackle her biggest challenge working in a rural area — apathy to oral healthcare.
"A lack of care for one's health or indifference to preventing acute or chronic disease can take a toll on a provider who wants the best for their clients," Jones said. "However, I have made some inroads into this challenge through different techniques, like motivational interviewing."
Jones explained that motivational interviewing is a discussion technique where she asks open-ended questions that allow the patient to articulate the changes they are most likely to sustain. This technique allows Jones and her patients to talk through any barriers and affirms the patient's decisions and abilities.
"When patients are honest about having difficulty, I do not reprimand them or make them feel bad. I just have more discussions with them," Jones said. "When I see noticeable changes as they come to more restorative appointments, I give high praise for the habit changes, and children get extra prizes from the treasure chest."
Jones' main professional goal is to reduce the prevalence of preventable oral disease from a lack of adequate oral hygiene, poor dietary choices and maladaptive behaviors in her community. She works toward that goal by treating the "whole patient," not just the oral disease.
"I see so many people with high caries risk and constant gingival inflammation due to a total lack of knowledge and care, but I do not just recommend the procedures that can be done in the office to fix the problem today," Jones said. "Instead, I educate patients on the root cause of their disease and work with the patient through collaborative discussion and problem-solving."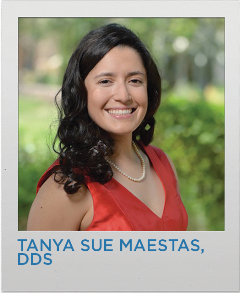 TANYA SUE MAESTAS, DDS
Woody L. Hunt School of Dental Medicine, Texas Tech University Health Sciences Center, El Paso, Texas La Clinica De Familia, Chaparral, New Mexico
Tanya Sue Maestas, DDS, is making her mark on the dental field through public health and education. Through her work in a public health dental clinic, she's providing care to underserved communities.
Maestas also serves as a faculty member at the Woody L. Hunt School of Dental Medicine at the Texas Tech University Health Sciences Center in El Paso, Texas, where she hopes to inspire the next generation of dentists to pursue careers in public health.
Helping people who otherwise wouldn't receive care is Maestas' passion, and her work as a public health clinician and educator has given her a unique perspective on how the industry might better serve disadvantaged patients.
"I hope that as a profession, dentistry continues to provide care to vulnerable populations and those in remote areas," Maestas said. "Advocating for increased loan repayment and scholarship programs for students to provide care in rural areas is key, as well as educating students about the availability of these opportunities."
Maestas got involved in organized dentistry to broaden her impact. Krystelle Anaya, DDS, who nominated Maestas, credited her with bringing her local AGD chapter back to life.
"She is involved in organized dentistry at all levels and serves with joy," Anaya said.
Looking to the future, Maestas hopes to grow where she has planted seeds — in public health and education. Despite the big issues public health clinicians face to increase oral healthcare access for rural populations, Maestas invites the challenge while expressing gratitude to her fellow colleagues.
"Dentistry is very rewarding and can simultaneously be very emotionally, physically and mentally challenging," Maestas said. "I'm blessed to have a professional community to help navigate these challenges. The dental community is very supportive, and I encourage dentists to surround themselves with other providers in the field."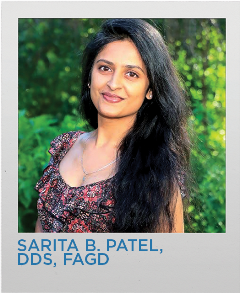 SARITA B. PATEL, DDS, FAGD
Apex Dental Associates, Turners Falls, Massachusetts
Sarita B. Patel, DDS, FAGD, said many New England-based general dentists refer to themselves as "CE junkies," and her role over the past six years in the Massachusetts AGD has centered on feeding the need for more local CE opportunities.
Patel was elected Massachusetts AGD president in 2021 after serving as the secretary since 2017. In 2016, she served as Communications Chair on the Massachusetts AGD board, where she laid the groundwork for major changes.
"When I was brought on to the Massachusetts AGD board, it was transitioning from retiring practitioners to mid-career general dentists," Patel said. "I felt that our social media and online presence were lacking."
To foster more interaction between local general dentists, Patel created a constituency Instagram account and spearheaded the organization's website. She also began leveraging email surveys of Massachusetts AGD members to learn what they expected from their membership.
In 2018, the board held an event that would assist in satisfying Massachusetts dental licensure renewal requirements. That event has now been held every other year. Through teamwork and vendor collaboration, Patel has led efforts in the Massachusetts AGD board to increase CE event frequency to at least four annual events.
Just as the constituency was gaining steam by offering more local CE opportunities, the COVID-19 pandemic hit. To adapt, Patel volunteered to help establish a monthly virtual series to provide free CE to all members of the region.
Bettina D. Laidley, DMD, FAGD, worked with Patel to set up the virtual CE meetings and nominated her to the "10 Dentists to Watch" list.
"[Patel] is an inspiration to young dentists who want to be involved in AGD and their communities and has rekindled this spirit in many of the older dentists who are happy to pass the torch to her," Laidley said.
By listening to her local AGD members, Patel has improved their access to education, even during a global healthcare crisis.
"[The pandemic] has been difficult on dentists and, more importantly, dental students with their decreased clinical exposure," Patel said. "They need our help more than ever. We believe we can provide mentorship and resources as the next generation of dentists enters the healthcare industry."
Kelly Rehan is a freelance journalist based in Omaha, Nebraska. To comment on this article, email
impact@agd.org
.