Tanya Sue Maestas, DDS
by

AGD Staff

Jan 10, 2023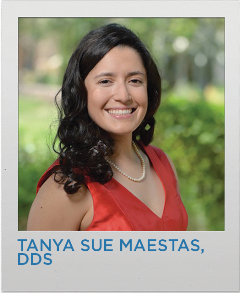 ---
"Dentistry is very rewarding and can simultaneously be very emotionally, physically and mentally challenging. I'm blessed to have a professional community to help navigate these challenges."

---

Woody L. Hunt School of Dental Medicine, Texas Tech University Health Sciences Center, El Paso, Texas

La Clinica De Familia, Chaparral, New Mexico
Tanya Sue Maestas, DDS, is making her mark on the dental field through public health and education. Through her work in a public health dental clinic, she's providing care to underserved communities.
Maestas also serves as a faculty member at the Woody L. Hunt School of Dental Medicine at the Texas Tech University Health Sciences Center in El Paso, Texas, where she hopes to inspire the next generation of dentists to pursue careers in public health.
Helping people who otherwise wouldn't receive care is Maestas' passion, and her work as a public health clinician and educator has given her a unique perspective on how the industry might better serve disadvantaged patients.
"I hope that as a profession, dentistry continues to provide care to vulnerable populations and those in remote areas," Maestas said. "Advocating for increased loan repayment and scholarship programs for students to provide care in rural areas is key, as well as educating students about the availability of these opportunities."
Maestas got involved in organized dentistry to broaden her impact. Krystelle Anaya, DDS, who nominated Maestas, credited her with bringing her local AGD chapter back to life.
"She is involved in organized dentistry at all levels and serves with joy," Anaya said.
Looking to the future, Maestas hopes to grow where she has planted seeds — in public health and education. Despite the big issues public health clinicians face to increase oral healthcare access for rural populations, Maestas invites the challenge while expressing gratitude to her fellow colleagues.
"Dentistry is very rewarding and can simultaneously be very emotionally, physically and
mentally challenging," Maestas said. "I'm blessed to have a professional community to help navigate these challenges. The dental community is very supportive, and I encourage dentists to surround themselves with other providers in the field."