Sarita B. Patel, DDS, FAGD
by

AGD Staff

Jan 10, 2023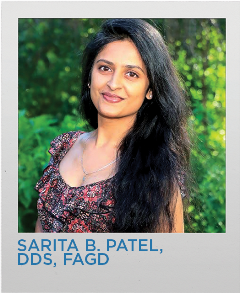 ---
"[The pandemic] has been difficult on dentists and, more importantly, dental students with their decreased clinical exposure. They need our help more than ever."

---

Apex Dental Associates, Turners Falls, Massachusetts
Sarita B. Patel, DDS, FAGD, said many New England-based general dentists refer to themselves as "CE junkies," and her role over the past six years in the Massachusetts AGD has centered on feeding the need for more local CE opportunities.
Patel was elected Massachusetts AGD president in 2021 after serving as the secretary since 2017. In 2016, she served as Communications Chair on the Massachusetts AGD board, where she laid the groundwork for major changes.
"When I was brought on to the Massachusetts AGD board, it was transitioning from retiring practitioners to mid-career general dentists," Patel said. "I felt that our social media and online presence were lacking."
To foster more interaction between local general dentists, Patel created a constituency Instagram account and spearheaded the organization's website. She also began leveraging email surveys of Massachusetts AGD members to learn what they expected from their membership.
In 2018, the board held an event that would assist in satisfying Massachusetts dental licensure renewal requirements. That event has now been held every other year. Through teamwork and vendor collaboration, Patel has led efforts in the Massachusetts AGD board to increase CE event frequency to at least four annual events.
Just as the constituency was gaining steam by offering more local CE opportunities, the COVID-19 pandemic hit. To adapt, Patel volunteered to help establish a monthly virtual series to provide free CE to all members of the region.
Bettina D. Laidley, DMD, FAGD, worked with Patel to set up the virtual CE meetings and nominated her to the "10 Dentists to Watch" list.
"[Patel] is an inspiration to young dentists who want to be involved in AGD and their communities and has rekindled this spirit in many of the older dentists who are happy to pass the torch to her," Laidley said.
By listening to her local AGD members, Patel has improved their access to education, even during a global healthcare crisis.
"[The pandemic] has been difficult on dentists and, more importantly, dental students with their decreased clinical exposure," Patel said. "They need our help more than ever. We believe we can provide mentorship and resources as the next generation of dentists enters the healthcare industry."