Mark A. Gaches, DDS, FAGD
by

AGD Staff

Jan 10, 2023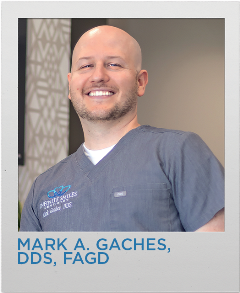 ---
"I focus on quality dentistry, not quantity dentistry. This allows me to have much more time and focus for full-patient care."

---

Infinite Smiles Dentistry, Owasso, Oklahoma
When Mark A. Gaches, DDS, FAGD, opened his own startup practice, he approached it less as a dentist and more as a patient. This patient-focused mentality, he said, is how he combats one of his biggest professional challenges: the rise of corporate dentistry.
"I focus on quality dentistry, not quantity dentistry," Gaches said. "This allows me to have
much more time and focus for full-patient care."
To set himself apart from high-volume, corporate practices, Gaches created a dental experience where patients get more from their visits. He offers comfort items like blankets, noise-canceling headphones, sunglasses patients can keep, and movies and music to enjoy during the visit.
"We focus on the patient as an individual and try to reduce wait times to less than five minutes. We
don't double or triple book, and we spend more time listening to the patient's concerns," Gaches said.
Gaches' quality-over-quantity approach not only benefits his patients — it also supports his overall health. Noting how burnout is a real threat to dentists, Gaches said his biggest piece of advice for those new to the field is to set your own pace, one that supports both you and your patients.
"Find your happy place in dentistry," Gaches said. "Not every practice has to be the same. You don't
have to work six days a week while serving four patients simultaneously to be successful."
In addition to volunteering with Eastern Oklahoma Donated Dental Services and the Oklahoma Mission of Mercy Dental Clinic, Gaches is setting aside time to earn the MAGD designation after achieving his FAGD in July 2022. CE keeps him informed and invigorated in the ever-evolving dental field.
"So many aspects of the dental profession are amazing," Gaches said. "I love solving challenges and problems in new, cutting-edge ways to positively change patients' views of dentistry."