Margaret J. Jones, DDS
by

AGD Staff

Jan 10, 2023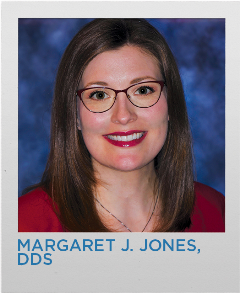 ---
"I hope to improve my community's oral health literacy and be an agent of change who improves oral health among future generations."

---

Cassis Dental Center, Fayetteville, West Virginia
Many people understand the importance of at-home dental care, but some patients simply don't know or — worse — don't care. The bulk of the patients Margaret J. Jones, DDS, sees have little knowledge of proper oral hygiene, so she has taken it upon herself to fill in the gaps.
"I hope to improve my community's oral health literacy and be an agent of change who improves oral health among future generations," Jones said.
Bruce L. Cassis, DDS, MAGD, 2020–2021 AGD president, nominated Jones to "10 Dentists to Watch." She is an associate at his practice, and he has seen how "she is a person of high integrity, excellent clinical skills and — just as important — excellent people skills."
It's those people skills that Jones uses to tackle her biggest challenge working in a rural area — apathy to oral healthcare.
"A lack of care for one's health or indifference to preventing acute or chronic disease can take a toll on a provider who wants the best for their clients," Jones said. "However, I have made some inroads into this challenge through different techniques, like motivational interviewing."
Jones explained that motivational interviewing is a discussion technique where she asks open-ended questions that allow the patient to articulate the changes they are most likely to sustain. This technique allows Jones and her patients to talk through any barriers and affirms the patient's decisions and abilities.
"When patients are honest about having difficulty, I do not reprimand them or make them feel bad. I just have more discussions with them," Jones said. "When I see noticeable changes as they come to more restorative appointments, I give high praise for the habit changes, and children get extra prizes from the treasure chest."
Jones' main professional goal is to reduce the prevalence of preventable oral disease from a lack of adequate oral hygiene, poor dietary choices and maladaptive behaviors in her community. She works toward that goal by treating the "whole patient," not just the oral disease.
"I see so many people with high caries risk and constant gingival inflammation due to a total lack of knowledge and care, but I do not just recommend the procedures that can be done in the office to fix the problem today," Jones said. "Instead, I educate patients on the root cause of their disease and work with the patient through collaborative discussion and problem-solving."