Dalal J. Alhajji, DMD, MSD
by

AGD Staff

Jan 10, 2023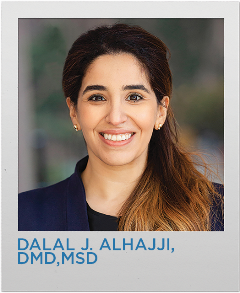 ---
"More patients are able to see someone like me because more oncologists are now aware of the value of having a dentist on their cancer care team."
---
New York University College of Dentistry, New York City
Five years after earning her dental degree, Dalal J. Alhajji, DMD, MSD, joined the faculty of New York University's (NYU's) Department of Oral and Maxillofacial Pathology, Medicine, and Radiology. She has focused her career on improving dental care access for patients with cancer in her local community.
"More patients are able to see someone like me because more oncologists are now aware of the value of having a dentist on their cancer care team," Alhajji said.
Michael Katzap, DDS, MAGD, DABOI, DICOI, FAAID, nominated his colleague for this year's "10 Dentists to Watch" list, noting how Alhajji regularly meets with medical oncologists at NYU Langone Health to advocate for dentistry's crucial role in the comprehensive care approach to cancer patients.
"I have noticed that significantly more patients with cancer are seeking dental care at the Oral Health Center for People with Disabilities within the NYU College of Dentistry thanks to Dr. Alhajji's efforts," Katzap said.
Alhajji also fights for her patients by educating their insurance companies to ensure critical services are covered. She shared an example of a middle-aged female patient who had a history of oropharyngeal cancer and underwent head and neck radiation therapy.
"She had a chronically infected tooth that was contraindicated for extraction due to her cancer treatment, yet that was the only means of definitively treating this problematic tooth, according to her insurance company," Alhajji explained. "I didn't want her to suffer even more. The extraction could have predisposed her to developing osteoradionecrosis. I intervened, and the insurance company approved a root canal instead, ultimately saving her jaw."
Looking ahead to the next 10 years, Alhajji hopes to influence additional institutions to implement dental oncology in their curriculum, as well as to ultimately encourage more dentists to pursue this career path.
"I'm seeing an accelerated desire from both medical doctors and dentists to work together, and I look forward to a stronger integration between medicine and dentistry to improve outcomes of care for all our patients."