Chione Daniel, DMD
by

AGD Staff

Jan 10, 2023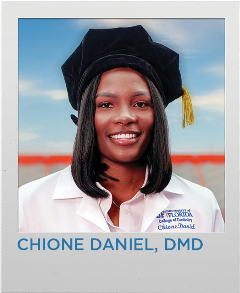 ---
"Being connected to specialists who are willing to guide you on difficult cases, classmates you can call to talk about hard days and mentors who can offer advice all make a world of difference."
---
Daniel Dentistry, Miami Gardens, Florida
You'll be hard-pressed to find a dental practice owner as young as Chione Daniel, DMD. She opened her dental office at the age of 26 — less than a year after graduating from dental school.
As the face of her practice, Daniel takes extra care to build relationships with her patients, getting to know them for more than just their teeth.
"Knowing that these patients trust me with their oral health needs and being able to
watch their progress is what gets me excited each day," Daniel said.
But Daniel also acknowledged the more difficult revelations of practice ownership; namely, the struggles some face to afford dental care.
"Strategically treatment planning a case that is both affordable and ideal is often a challenge," Daniel said. "I like to educate patients on the importance of oral health and show them the value of their teeth. After understanding the value, they are then able to make the necessary investments in their oral health and overall quality of life."
Being a young practice owner has an added responsibility, Daniel said, as she knows young and aspiring
dentists are watching.
"I enjoy being a part of the Miami community, not only as a dentist, but also as a role model to the younger generation," Daniel said. "I plan to continue to assist younger dentists in practice ownership by providing opportunities for partnerships."
Her advice to new dentists? Don't give up on your dreams, but also realize you don't have to go it alone.
"Being connected to specialists who are willing to guide you on difficult cases, classmates you can call to talk about hard days and mentors who can offer advice all make a world of difference," she said.