Renew Your National Membership Without Spending a Dime
by

AGD Staff

Sep 12, 2022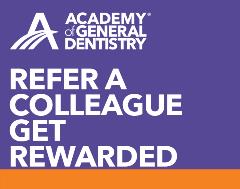 Referring colleagues can earn you $50 in Referral Rewards for each referral who joins. There's no limit on the rewards you can earn, which means that with enough new recruits, your rewards could cover renewal of your national dues.
To help with recruiting, let colleagues know if they join AGD before Sept. 30, they'll get half off 2022 national dues.
Submit referrals by completing the
online form
.