Thank You for Your Support of the AGD Foundation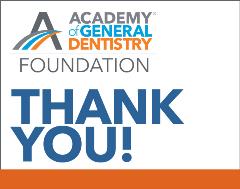 The AGD Foundation would like to extend a huge thank-you to everyone who stopped by its booth at AGD2022, volunteered their time to help conduct the screening event, sat down for a free oral cancer screening, bid in the silent auction, and/or donated during the event. Your support is the reason the organization is able to passionately pursue its goal of oral and oropharyngeal cancer prevention, awareness and early detection.
Learn more
about the Foundation's initiatives and programs.