Maintain, Repair or Replace?
by

AGD Staff

Jun 27, 2022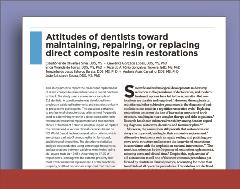 Does the professional profile of a dentist influence their treatment choices? A new study in
General Dentistry
sought to evaluate the clinical decision-making of more than 200 dentists at various stages of their careers regarding maintenance, repair or replacement of direct composite resin restorations.
Discover the results in the May/June issue
.