Capitol Connections
by

AGD Staff

Jun 27, 2022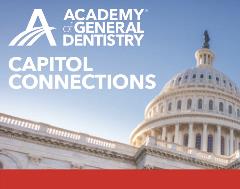 AGD is working to address the most pressing issues faced by our members as we advocate to government entities for general dentists.

This issue includes:
AGD Welcomes CDO Barefoot to HRSA
HHS Secretary Appoints Dr. Adam Russell to ARPA-H
Urge the Senate to Take Up H.R. 4555 Today
Read more in the latest issue of Capitol Connections.