Looking to Take the Fellowship Exam at AGD2022?
by

AGD Staff

May 31, 2022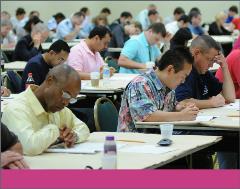 Take advantage of the two-day Fellowship Review Course at AGD2022 July 27–28! This course provides a refresher in 17 dental disciplines, and attendees may take the Fellowship Exam the following day. All registrants will also receive an electronic copy of the Fellowship Exam Study Guide and a link to downloadable course handouts. Premium Plus members receive a 20% discount.
Register now
!
The 2022 Online Fellowship Study Guide is now available
for purchase
. This 100-question study guide has been developed from the content outline of the Fellowship Exam and is an excellent self-instructional tool to aid in your studies.
Please note that Premium Plus members receive a 20% discount on the purchase price.
Learn more
.