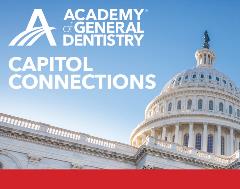 AGD is working to address the most pressing issues faced by our members as we advocate to government entities for general dentists.

This issue includes:
AGD Leads Organized Dentistry Letter Promoting H.R. 4555
White House Concludes Regulatory Review of Menthol Ban
Pause on Federal Student Loan Repayments Extended
Read more in the latest issue of Capitol Connections.