The Not-So-Secret Lives of Dentists
by

Sarah Louise Klose

Mar 21, 2022
Dentistry as a profession is known for attracting people with scientific and analytical minds as well as creative talents. It can also take up a significant amount of time outside of standard business hours. Many dentists indulge in their creativity both in and outside the office. But some go even further, devoting so much time to their passions that they create almost secondary careers. The three dentists in this story all have interests that go beyond simple hobbies. They've managed to balance these not-so-secret second lives with dentistry, enriching both their professional and personal selves.
AGD Impact
hopes that sharing their stories will inspire others to pursue their passions and find an optimal work-life balance.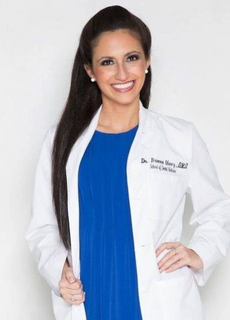 A PASSION FOR DANCE AND DENTISTRY
Brianna Muñoz, DMD, MPH
As a child, Brianna Muñoz, DMD, MPH, performed as Clara in Boston Dance Company's "The Nutcracker." She was also accepted into the Boston Ballet at a young age. Her dream was to combine her passion for dance with her pride for the New England Patriots by becoming a Patriots cheerleader.
Muñoz also had a passion for science and art and wanted to help people with their oral health. "As a dancer who was performing on stage throughout my entire life, I recognized that one's smile had a profound impact on self-esteem and self-confidence," she said.
She graduated from Providence College with a double major in chemistry and biology and a minor in dance. At the University of Connecticut, Muñoz earned a DMD in 2016 and an MPH in 2019. She specialized in pediatric dentistry in order to "focus on disease prevention, oral health promotion and early intervention."
Now, she balances her life in Connecticut as a dentist at Connecticut Pediatric Dentistry and as a cheerleader for Patriots home games in Foxborough, Massachusetts. Her pediatric patients have innocently said she looks like an astronaut, welder or butcher in her dental garb (scrubs, lab coat, bouffant cap, full personal protective equipment [PPE]). But Muñoz can transform from a dentist into cheerleader Brianna Muñoz in only a few quick steps.
"With the help of some makeup done in the car, I take my hair out of a bun, lose the PPE layers and somehow turn into an NFL cheerleader," she said.
Her Patriots cheerleader responsibilities include practices, home games (eight-hour days at the stadium) and promotional appearances. She participates in cancer walks, Cradles to Crayons initiatives and Make-a-Wish Foundation events as a Patriots brand ambassador, often in her cheerleading uniform.
"Throughout football season, I have relied heavily on my color-coded calendar and changing in the car," Muñoz said.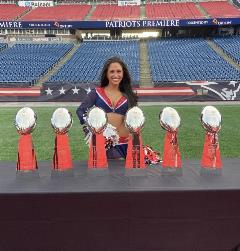 She first made the 31-member Patriots cheerleading squad for the 2011–12 season. The seven-week audition process involved performing freestyle and both choreographed and across-the-floor dance routines for a panel of judges. There were three rounds of cuts, an interview, finals and boot camp. Next came media training, fitness training and running the ramps at the football stadium.
As a rookie cheerleader, Muñoz was a college senior applying to dental school. "This subsequently led to writing up lab reports in the Hall Office and reading 'Nicomachean Ethics' at Gillette Stadium," she said.
She was sent to Aruba to make the Patriots Cheerleader Swimsuit Calendar. To support her career ambitions, cheerleading coach Tracy Sormanti strategically placed a dental ad on Muñoz's swimsuit calendar page.
After that cheerleading season, Muñoz turned her attention to dental school and her practice. In 2015, she volunteered for a service trip in Neltume, Chile, to treat the indigenous residents of the Huilo-Huilo community. "We converted an impoverished elementary school into a fully functional dental clinic and treated several hundred patients who did not have access to dental care," she said.
Since then, Muñoz has worked on key legislative issues to promote oral health equity: teledentistry, Medicaid and dental coverage for children and young adults up to age 26. She received the Connecticut Oral Health Initiative's 2019 Oral Health Champion Award for her efforts on the latter.
For the 2021–22 Patriots cheerleading season, she auditioned to honor coach Sormanti, who died of multiple myeloma in 2020. This time, 300 men and women auditioned in a hybrid format due to COVID-19, and 33 were chosen, including Muñoz. Her juggling act began again.
She proudly carried a Super Bowl Trophy at an October 2021 ceremony that inducted Sormanti into the Patriots Hall of Fame. It had been 10 years since Muñoz had been on the cheerleading squad. Now, she was back — living her dental and dance dreams to the fullest.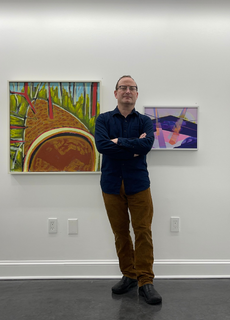 THE BEAUTY OF DENTISTRY AND ART
Eric M. Katzman, DMD
Beauty takes many forms. For Eric M. Katzman, DMD, it's in his crown and bridge work and in his original and curated artwork.
He grew up surrounded by art. "Both of my grandfathers were painters, and my mother was a printmaker. Our next-door neighbor was an art professor at the University of Kansas," he said. "I worked in art galleries since I was young and for the National Endowment for the Arts in Washington, D.C."
Katzman's hometown is Lawrence, Kansas, but he learned to appreciate art and culture everywhere. "My dad is a professor and world traveler. He'd take us on sabbaticals to England, Japan, Ireland — all over the world," he said.
He earned a Bachelor of Fine Arts in painting at the University of Kansas. Katzman then wanted to combine art and science and study dentistry, but college advisers said he wasn't smart enough. He took prerequisites, persevered and graduated from the Harvard School of Dental Medicine in 2005. By then, he was juggling another set of priorities — he was married with three children.
He enjoys dentistry because it allows him to work with his hands, improve patients' lives and create dental art. "The color, the shape, the form, the unity of tiny sculptures — that is how I look at dentistry. It is like jewelry-making or pottery," he said.
Katzman served as a dentist and captain in the U.S. Air Force in Texas and New Jersey. He opened his Dover, New Hampshire, private general dentistry practice in 2011.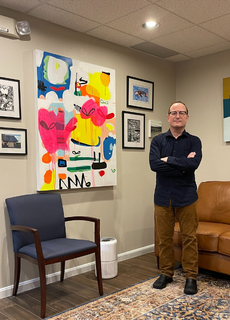 Away from the office, he painted and drew on the side. Some of his artwork decorated his dental office, but he mainly kept it to himself. Then, in 2015, his house burned down. Only his family and dog survived.
"Everything went up in smoke — all of my artwork. It made me want to get my art out where everyone can see it," he said.
Katzman created new pieces with acrylics, graphite, charcoal and spray paint. Galleries in Maine, Maryland and Massachusetts showcase his art. In summer 2021, his mixed media piece, "Untitled," won a Juror's Award in the "Real or Imagined" exhibit at the Attleboro Arts Museum in Massachusetts. In December 2021, the Rochester Museum of Fine Arts in New Hampshire featured a solo show of his 48-by-36-inch brightly colored abstract paintings.
To fulfill a lifelong dream, Katzman and his wife, Julie, opened an art gallery in 2021 — right next door to his dental practice. Julie manages his dental office and is his partner and codirector of the gallery. They met in 1989 when she was dressed in a cat costume at a Halloween party. He had the perfect icebreaker: his last name.
Katzman Contemporary Projects is art-centered, but curator talks and fiction readings are also hosted at the gallery. The gallery takes a 20% commission on art sales — less than most other galleries — so more money goes to the artists.
"We'll do six to eight shows per year with three artists per show. We also plan two large group shows with about 40 artists," Katzman said.
Their first show, "Nor'easterly," featured 40 artists (figurative painting, sculpture, pottery). It opened in October 2021 to hundreds of masked attendees due to pent-up demand and a high production of paintings during COVID-19. The gallery's second show, "(Re)figuring Abstraction," opened in January 2022 and featured abstract artists Lydia Kinney, Forrest Knight and Richard Keen.
Katzman says dental patients are a community, and an art gallery offers the same type of community. "I'm pleased we provide a place in Dover for artists and lovers of art to connect," he said.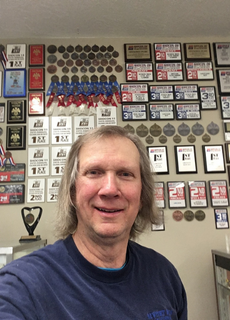 THE MODELING LIFE
Richard C. Engar, DDS, FAGD
At age 9, Richard C. Engar, DDS, FAGD, built plastic models of Freddy Flameout and Super Fuzz from the Weird-Ohs Car-icky-tures line. The first model airplane he built was the Supermarine S.6B racer. His hobby evolved to building planes, space capsules and fastback sports cars, all from model kits with instructions.
Engar hung his models from acoustic ceiling tiles in his room. "My sister's bedroom was above mine, and, if she got mad at me, she knew where to stomp hard to knock a plane down," he said.
At age 18, he put his models in storage, went on a church mission to Japan, then earned a BA in psychology from the University of Utah.
Once, while out with his fiancée, Engar gazed at a wall of models and said he used to build them. "Why don't you buy one?" she asked. So he did. They married in 1977 and had a family; he'd build models at night after the kids were in bed.
Engar became interested in dentistry at age 13. He was nervous about receiving a root canal, and an empathetic endodontist explained what was involved. He went on to graduate from the University of Washington School of Dentistry in 1980 and open a general dentistry private practice in Salt Lake City in 1981.
"I did my own casts of gold crowns and poured molds in plaster. Once, I connected the compressor to an airbrush and found I could paint with it," he said.
Engar built models and put his planes on shelves in a second office. "My World War II veteran patients got a kick out of the 'airplane room.' It gave me the idea to someday have a museum," he said.
In 1991, Engar left private practice to work for Professional Insurance Exchange, a mutual insurance company for Utah dentists. He retired as CEO in 2020.
His younger brother, Bill, introduced him to competitive modeling in 1995. Since then, Engar has won over 35 state, regional and national model-building awards. He won "Best Seaplane" for his recently completed Shinmeiwa SS-2, a Japanese amphibious aircraft with a complicated paint job.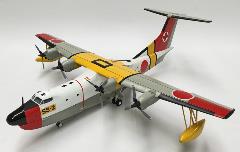 "In competition, all wings have to be straight, paint has to be just right, decals must be done properly and no glue can show," Engar said.
He and Bill review model kits, such as the Spruce Goose and Titanic, on their website, DemBrudders.com. They once did a "crazy stunt" of buying, building and painting a model each in just 24 hours.
Engar opened his 900-square-foot museum in Bountiful, Utah, in 2021. There, he displays the 275 airplane models and 20 car models he built. Murals, airplane posters and awards decorate the space. Reference materials are also on hand.
"I am at the museum three days a week to paint and act as a docent," Engar said.
Building model airplanes involves painting small parts, putting interiors together, spray-painting the main body and putting the landing gear on. Engar said a small single-engine plane may have 50 parts, but a Russian bomber could have 300 parts and eight different shades of silver paint.
"Model building is a great thing for someone going into dentistry because you start developing your hand and eye coordination," he said. Many of his museum visitors are dentists.
He prefers to build bomber, jet and propeller-driven airplane models. He originally built 1/72 scale model kits — they're smaller and easier to build — but now prefers 1/48 scale (1 inch model = 4 feet actual).
"No one says it's kid stuff after they see what we do," he said.
Sarah Louise Klose is a freelance writer based in Chicago. To comment on this article, email impact@agd.org.