Nominate Colleagues for the 2022 Albert L. Borish, Distinguished Service and Humanitarian Awards
by

AGD Staff

Mar 21, 2022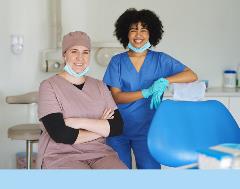 AGD is seeking nominations for the 2022 Albert L. Borish, Distinguished Service and Humanitarian awards, which recognize exceptional achievements and contributions to the dental profession. Do you know an outstanding colleague who has made exceptional contributions?
Nominate your colleague today
!
All nominations and supporting documentation must be submitted by March 31, 2022. Award recipients will be honored during the 2022 House of Delegates meeting. Submit all nominations to the AGD Awards Committee, Office of the Executive Director, 560 W. Lake St., Sixth Floor, Chicago, IL 60661-6600. For more information, email
executiveoffice@agd.org
, or call 888.243.3368, ext. 4330.