10 Dentists to Watch
by

Kelly Rehan

Jan 10, 2022
They're new to the field but have already left their marks.
If you glimpsed the resumes of the following 10 dentists, you'd likely be confused.
You might see a 2015 or 2016 dental school graduation year, but the accomplishments listed reflect the work of a seasoned dentist who's had many years to amass success.
AGD Impact
is proud to introduce 10 young professionals who — in less than a decade of practice — have already secured their places among dentistry's leaders.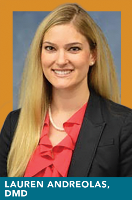 LAUREN ANDREOLAS, DMD
Mascoma Dental Associates, Lebanon, New Hampshire
As Lauren Andreolas reflects on her first decade of dental practice, achievements like the full-mouth rehabilitation case and upper/lower all-on-6 implant prosthesis come to mind. Those specific treatment milestones are highlights, but they aren't the biggest points of pride.
"The most important accomplishment of my dental career is that I have given patients my best effort," Andreolas said. "I have treated them like family and built lifelong relationships."
Speaking of family, Andreolas welcomed twin boys in November 2020. Her dental career has moved flexibly with the seasons of her life, allowing her to work part time while her boys are young and return to full time when she's ready.
The flexibility of dentistry makes it an exciting field, and that doesn't just apply to motherhood. Technology allows dentists to broaden or narrow their scopes at any point in their careers, Andreolas said.
"We live in an exciting time, where technology has endless possibilities and has helped our profession better treat our patients," she said. "For example, a CBCT scan allows us to evaluate soft and hard-tissue pathology and the patient's airway, plan implant placement, and know how many canals a maxillary second molar has before starting root canal therapy."
Staying current with dental technology while meeting the demands of motherhood has taught Andreolas that achieving success in dentistry is a marathon, not a sprint. "Some days, your schedule will be busy, and other days it will be light. It happens! Be patient because it takes time, experience, practice and continuing education to be proficient in dentistry," she said.
Andreolas' wise-beyond-her-years approach quickly earned the attention of Linda G. Trotter, DMD, FAGD, regional director of Region 20.
"She is perceptive, purposeful and driven — all attributes to guide the next generation of dental professionals," Trotter said. "Point her in the right direction, and she will lead the way."
Although she's balancing a plate filled with private practice, motherhood and leadership, Andreolas makes room to consider continuing education (CE) in prosthodontics and cosmetic dentistry. She's also devised a clever idea to further blend the professional and personal.
"Eventually, I would like to open a small private practice in conjunction with my husband's future plastic surgery office and take care of patients as a family," she said.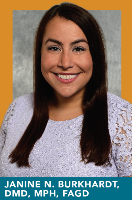 JANINE N. BURKHARDT, DMD, MPH, FAGD
Project HOME, Philadelphia, Pennsylvania
Only a few months after graduating dental school in 2015, Janine N. Burkhardt, DMD, MPH, FAGD, opened a dental department for Project HOME, a nonprofit organization with an embedded federally qualified health center. In 2018, she expanded its dental services to another site to increase access to care for people experiencing homelessness in Philadelphia.
"Many patients express gratitude. They have difficulty accessing dental care because they are uninsured or are using Medicaid benefits," Burkhardt said. "It's a blessing to be able to have so many resources within our organization to connect them to and help get them back on their feet."
Steve Neidlinger, CAE, executive director of the Pennsylvania AGD, said he's amazed at the level of dentistry Burkhardt performs on the shoestring budgets and pressures of a public health clinic.
"I feel that we too often make the mistake of clearly delineating public health and private dentistry, assuming that public health sacrifices quality for expedience; Dr. Burkhardt wrecks that delineation," Neidlinger said. "The beautiful and complicated cases that she performs for Philadelphia's homeless and impoverished citizens proves her commitment to the goal of providing the best possible care to the people she serves. She saves lives and smiles every day."
Delivering the best possible care to her patients means that Burkhardt has emphasized CE. She earned her FAGD in 2019 and a Master of Public Health with a dental emphasis in 2020, and she is currently pursuing her MAGD through the Pennsylvania AGD MasterTrack program.
In addition to giving back to her community and prioritizing CE, Burkhardt is preparing to be inducted as president of the Philadelphia County Dental Society in February 2022. She's also actively involved with the National Network for Oral Health Access and has presented at its national conference.
In the future, Burkhardt hopes to continue learning the latest techniques and acquiring new equipment and materials for Project HOME. She's also focused on further meeting the oral health needs of Philadelphia's most vulnerable population.
"This might be expanding to include dental services at a healthcare site where we currently only have medical services or adding a mobile services van to be more accessible to people who are street homeless," she said.
When thinking about what she loves most about dentistry, Burkhardt said it's the instant gratification. You don't wonder if you made a difference in someone's life because it's plain to see on their face.
"I like that you can often provide instant satisfaction to patients," Burkhardt said. "They may come in crying or in pain, and, within the hour, you can often have them smiling again.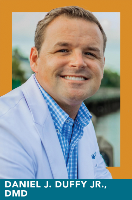 DANIEL J. DUFFY JR., DMD
Live Oak Dental, Wilmington, North Carolina

Since graduating dental school, Daniel J. Duffy Jr., DMD, has accomplished a lot. In his first year out of school, he purchased his own dental practice. On top of running a business, he's taken close to 100 hours of CE each year and led his local dental study club for the past four years. He's also volunteered as a board member for Cape Fear Clinic, a nonprofit medical clinic providing affordable care to low-income patients.
But Duffy, who's not only a dentist but also an avid surfer, refuses to let his professional pursuits overwhelm his rich family life and love of the outdoors.
"I have three kids with whom I absolutely love spending time outside," Duffy said. "We live in a small beach community in North Carolina, so we spend a lot of time at the beach. Surfing and fishing are some of the things I like to do when not doing dentistry." Looking ahead to his future career goals, Duffy hopes to purchase a second dental practice and form a nonprofit organization that provides advanced dental care (like 3D printing and digital smile design) to patients in need.
He also has his sights set on working three days a week and taking six weeks of vacation per year — because goals aren't worth setting if you've run yourself into the ground before you accomplish them.
His advice to young dentists? Enroll in a lot of CE early on, but learn how to make dentistry a complement to your life. That may mean reimagining a lot of ingrained ideas about your professional life.
"Take time off, and don't get burned out," Duffy said. "Dentistry is demanding, both physically and mentally, and you will thrive on a three- or four-day work week."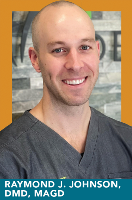 RAYMOND J. JOHNSON, DMD, MAGD
Mint Dental, Warren, Pennsylvania
Raymond J. Johnson, DMD, MAGD, achieved his AGD Fellowship and Mastership, tackled practice ownership, and was nominated for a leadership position within the Pennsylvania AGD before his 32nd birthday.
"He could conceivably apply for a Lifelong Service and Recognition award before he turns 35," said Neidlinger. "I've never seen anyone with a greater commitment to his continual improvement than Ray Johnson."
To Johnson, who also serves as president of the Pennsylvania AGD, this dedication to continuous learning is just part of the job. "Dentistry has many avenues for success, which many fields don't offer," Johnson said. "I embrace the expansion of technology and advancement of our restorative options. The constantly evolving nature of our profession forces us to be lifelong learners, and that has always been a passion of mine."
CE extends beyond achieving certifications or attending courses and conferences, Johnson explained. It's also about mentorship and connection to others in the field who have their own invaluable pearls of wisdom to share.
"Dentistry can be a lonely place," Johnson said. "Most dentists are solo practitioners with no one to rely on but themselves. I feel fortunate that I was able to find phenomenal mentors early in my career, but, had it not been this way, things could have been very different. Dentists are the captains of their teams, but they need to develop teams outside of their offices so that they have the support and foundations for long-term success."
His advice to new dentists is simple: Commit to CE. The more you know, the more you offer.
"Achieving my FAGD and MAGD was like a springboard to accelerate my career," Johnson said. "In a field such as ours, standing out is important, and maximizing your learning from an early stage in your career is the best way to do just that."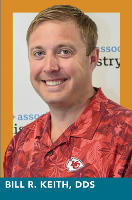 BILL R. KEITH, DDS
Keith + Associates Dentistry, Mission, Kansas
Before taking over his father's dental practice, Bill R. Keith, DDS, earned a master's degree in accounting and flipped houses. This academic and practical background helped him navigate the sometimes bumpy road of the business of dentistry.
Since taking over the family practice, Keith's challenge has been to grow it through efficient, high-quality care. He's taken full advantage of the technological enhancements in dentistry to help achieve that goal.
"I feel we are at the cusp of a dramatic change where the principles of basic dentistry do not change, but technology is changing how we think of them," Keith said. "From in-office crowns to digital impressions, digital dentures and robotic surgery: The basic idea of care is the same — to create and keep healthy smiles — but we are seeing a shift in how we achieve that."
Another source of growth is through partnerships with physicians, who are helping share the message that dental care supports total care with their patients.
"I feel dentistry is earning a level of respect among the medical community," Keith said. "I find many of my physician friends are understanding the oral-systemic link and how keeping a healthy mouth so dramatically impacts keeping a healthy body."
In addition to collaborating with physicians, Keith's biggest piece of advice to up-and-coming dentists is to view fellow dentists as sources of advice and information, not competition. Keith's own involvement in Dental Success Institute, a national dental peer mastermind group, has added "immeasurable" value to his practice.
"As dentists, we should focus more on being a united group that works to provide the best care to our patients more than trying to do one more crown than the guy down the street," Keith said. "We need to educate patients that the care we provide is necessary and valuable. It's the choice between a new iPhone and an implant. If we work together as a group, I believe we can make headway here.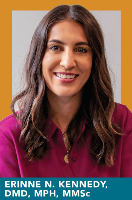 ERINNE N. KENNEDY, DMD, MPH, MMSc
Kansas City University College of Dental Medicine, Joplin, Missouri

"What are you doing to create a better future for dentistry and for patients?" Ask Erinne Kennedy, DMD, and you may have to clear your schedule.
First, she was part of a team that developed a Massachusetts state toolkit for Antibiotic Stewardship for Oral Health Providers.
"The process of creating this toolkit was a way to create change for decades to come, and I am honored to be a part of a team focused on creating that level of change," Kennedy said.
After helping with the state toolkit, she contributed to the publication of a clinical practice guideline with the American Dental Association titled "Evidence-Based Clinical Practice Guideline on Antibiotic Use for the Urgent Management of Pulpal- and Periapical-Related Dental Pain and Intraoral Swelling."
Lastly, in 2019, Kennedy became the first student to graduate with a Master of Medical Sciences in Dental Education from the Harvard School of Dental Medicine.
"Being a part of the team that paved a way for future educators was incredible," she said. "We have so much untapped potential in the field of oral disease prevention. We are on the cusp of innovative research, diagnostics and preventive therapies. Being in the generation that identifies these discoveries and makes them a part of day-to-day practice is exciting."
Kennedy is passionate about her role as a teacher and a lifelong learner, which she describes as "a mindset of being curious daily and of persistent self-reflection." Kennedy is an assistant professor and director of predoctoral education at Kansas City University's College of Dental Medicine and a part-time lecturer in the Oral Health Policy and Epidemiology Department of the Harvard School of Dental Medicine.
In less than a decade of practice, Kennedy has helped create new pathways to better dentistry and better patient outcomes. Amazingly, she has her sights on an even bigger goal: building a new dental school in Joplin, Missouri.
"In the next 10 years, my team and I hope to create a generation of dentists equipped and willing to serve rural communities," Kennedy said.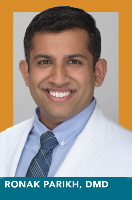 RONAK PARIKH, DMD
BayBreeze Dental, Wesley Chapel, Florida
After graduating from dental school in 2017, Ronak Parikh, DMD, established his own dental practice from the ground up. But his proudest accomplishment is the work he does to help people who have experienced terrible trauma. He donates a portion of his practice's profits to helping those affected by human trafficking and provides others in need with free dental care.
"We advocate for human trafficking survivors and work with our partner, Mission Smiles, a local mobile clinic that provides free dental care to survivors," Parikh said. "As the practice continues to grow, I hope to develop deeper bonds with our community and provide patients more opportunities to change their lives through healthy smiles."
Parikh has created a dental career that combines his love for volunteering with his passion for technology and cutting-edge techniques. To achieve the latter, Parikh has dedicated himself to learning, calling himself "an avid seeker of continuing education." He is currently over 90% of the way to earning his AGD Fellowship and hopes to ultimately earn Mastership.
"I appreciate that within the dental profession I am as much a dentist as I am a student," Parikh said. "I am always looking for the latest technology and the most innovative techniques to improve patient lives and procedural outcomes."
Although he's practiced dentistry less than five years, Parikh has already experienced how extensive and impactful dentistry can be — from changing someone's smile by enhancing alignment through Invisalign® to regenerating bone for patients who have experienced trauma.
"The ability to change someone's entire outlook on their life is meaningful," he said. "It makes being in a profession you enjoy that much more rewarding."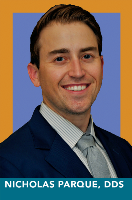 NICHOLAS PARQUE, DDS
Timothy A. Hess, DDS, MAGD, Comprehensive Dental Care, Auburn, Washington
The first years of dental practice require intense learning, but, for Nicholas Parque, DDS, he's also assumed the role of teacher.
After dental school, Parque felt he had more to learn. So, he continued his education by completing a general practice residency program at Swedish Medical Center in Seattle, Washington.
"I was fortunate in that I found a residency that was comprehensive and well designed and offered exposure to literally every aspect of dentistry," Parque said. "I look at this experience as a catalyst that set me on a path to someday becoming a great dentist."
After his residency, he returned to the Swedish Community Specialty Clinic and served as an attending dentist.
"I guide new dental school graduates through the fundamentals of oral surgery practice and to the point of being able to manage complex cases on patients with significant medical complexity," Parque said. "I love being part of the learning process and seeing the residents develop skills and confidence over the course of the year. I recall how formative my time in the clinic was, and I hope that I can make the same impact on new graduates as others did for me."
Parque also helped develop and implement Washington AGD's Surgical Extractions for the General Dentist program, which is designed for the general dentist to gain hands-on surgical extraction experience.
"We hope doctors become more confident with surgical extractions, thereby improving their abilities to serve their communities moving forward," Parque said. "I hope that this will be a long-standing course that the Washington AGD is able to offer, which will allow fellow dentists to gain education on the foundations of oral surgery while also giving back to our local communities."
Valerie Bartoli, Washington AGD chief executive officer, said Parque impresses her with the clinical and leadership skills he's shown in his young career.
"He never hesitates to take on new positions or challenges within our board," Bartoli said. "He happily encourages others to be involved with organized dentistry. There is no doubt this young man will continue to advance his clinical skills and train dentists from all over the world."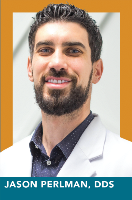 JASON PERLMAN, DDS
Spanaway Dental Wellness, Spanaway, Washington
To Jason Perlman, DDS, dentistry is a blend of science and human relationships. The connection he establishes with his patients — which he dubs "relationship-based dentistry" — is what he loves most about the profession.
"It's our job and duty to provide the same level of care we would want for ourselves," Perlman said. "We can do this only by treating people, not teeth."
Perlman said his training at the Pankey Institute shaped this humanistic focus, as the program promotes a comprehensive approach to patient care.
"The Pankey Institute taught me to observe the obvious dental problem and investigate further to determine and treat systemic issues underlying the symptoms," Perlman said.
Last year, Perlman completed a surgical "mini-residency" through the Washington AGD called Clinical Implantology from A to Z. The intensive 10-month program combines clinical and didactic learning, and Perlman was invited to return as a clinical instructor after completion of the program.
As he looks ahead to the next 10 years of practice, Perlman hopes to continue to build on what he and his wife, a fellow dentist, have built at their private practice, Spanaway Dental Wellness.
"Normally, a patient's dental experience is very stressful and filled with anxiety based on a painful or uncomfortable experience at a prior dental office," Perlman said. "Our goal is to change the way people feel about going to the dentist by creating relationships built on trust, compassion and transparency."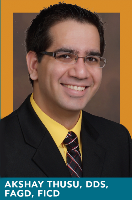 AKSHAY THUSU, DDS, FAGD, FICD
Advanced Smile Care, San Antonio, Texas
Akshay Thusu, DDS, FAGD, FICD, graduated from dental school in 2015 and has already built an impressive list of achievements, including earning his AGD and International College of Dentistry fellowships, serving as president of the San Antonio AGD, and receiving the 2021 Texas New Dentist of the Year award.
Volunteerism is a pillar of Thusu's young career, and he has dedicated himself to serving the needs of San Antonio's most vulnerable populations through volunteering with the Texas Mission of Mercy, Dentistry from the Heart and Smiles for Hope Clinic.
"I aspire to continue progressing as a leader in dentistry and serving the public of San Antonio," Thusu said. "I hope to use my influence for a positive impact for the future of dentistry, including creating a nonprofit foundation with the goal of providing free dental care to those in need and education scholarships to support the next generation of leaders in dentistry."
Thusu and his family moved to the United States from India when he was 15 years old. Region 18 Regional Director Marc J. Worob, DDS, FAGD, said that this life transition sparked the selflessness that Thusu has woven into his career.
"Akshay is an amazing young man whose parents set the tone for his life by sacrificing everything to bring him to this country for his education," Worob said. "Leaders like Akshay don't come along very often, and this incredibly talented young dentist strives to be better than the day before, every day."
To Thusu, the most exciting part of dentistry is his patients, who offer the "greatest and most valuable source of learning, motivation and success." His advice to new dentists is to never lose sight of why you became a dentist — to help others.
"The journey to becoming a dentist will be difficult, and there will be times when you feel like giving up," Thusu said. "The more difficult the journey and the harder you work, the stronger and more successful you will come out."
Kelly Rehan is a freelance journalist based in Omaha, Nebraska. To comment on this article, email impact@agd.org.