CBCT Purchasing Guide: How to Choose the Perfect Machine
by

David A. Scardella, DMD

Feb 17, 2020
This is a Self-Instruction article worth one CE credit.

Recent CBCT purchaser David A. Scardella, DMD, recalls his decision-making process.
Back in 2015, I took out a sizable loan to purchase my first dental practice in Duxbury, Massachusetts. Stress and uncertainty abounded. Yet, five months later, I found myself taking out another loan to buy a cone beam computed tomography (CBCT) machine. Why did I think it was so essential to my practice that I added almost $100,000 to my debt? How did I decide which machine to purchase? What features were important? How did I plan on paying for the new piece of equipment?
Before I get into the details, I'll answer one question upfront — if you're considering buying a CBCT machine, don't hesitate. It was a practice-changing decision for me. There are far more options today than there were even four years ago, so it's easier to find what's right for you. It can be confusing, but if you focus on a few key features that are important to your practice, you'll be able to make the right decision.

Why Buy?
For me, the reason behind purchasing a CBCT machine for my practice was dental implants. The information gained from CBCT scans prior to dental implant placement is invaluable and quickly becoming the standard of care in implantology. While implants were placed for many years without CBCT scans, there is simply no reason not to have this data in today's world. When treatment planning an implant case, there is no situation where I find it beneficial to have less information (e.g., a panoramic or periapical radiograph) rather than more information (a CBCT scan).
If you're not placing implants, there are certainly other uses for CBCT, most notably third molar extractions and endodontics. For third molar extractions, inferior alveolar nerve proximity to tooth roots can be easily determined using a CBCT image. In endodontic cases, CBCT will show periapical lesions far more clearly than traditional radiographs, especially around the maxillary sinus. It can also be used to navigate root canal anatomy and evaluate previously treated canals. However, in my small general dentistry practice, I likely wouldn't have made the investment in CBCT if I wasn't also placing implants.
The Right Fit
When you begin looking at CBCT machines, envision the space it will occupy in your office. If you're limited in terms of space, your choices will also be limited. Fortunately, most CBCT machines take up approximately the same amount of space as a traditional panoramic machine, and many have both 3D and 2D sensors and are therefore able to capture panoramic radiographs as well as CT scans. Panoramic images can also be reconstructed from a CBCT image using software. This dual capability means your new CBCT machine can replace your old panoramic machine, so no additional space will be required.
Size also matters when discussing field of view (FOV), which refers to how much of the patient's head will be captured by the scan. The larger the FOV, the more data you will be responsible for interpreting. My suggestion is to choose the smallest FOV for what you want to accomplish. Most machines also allow you to narrow the FOV (and therefore decrease the radiation exposure) depending on what you're scanning. For endo, a 5-by-5-centimeter FOV will be adequate in most cases. Oral surgeons typically get full-FOV machines — up to 16 by 16 cm.
If you're considering buying a CBCT machine, don't hesitate. It was a practice changing decision for me.

As a general dentist who places implants but doesn't extract wisdom teeth, I bought an 8-by-8-cm Planmeca® Promax® 3D Classic. In general, I've been very happy with my purchase. However, there are times when 8 by 8 cm is inadequate, such as with patients who have tall mandibles or longer faces. In these cases, the sinuses and apices of the maxillary teeth may be out of the FOV. Fortunately, this limitation is rarely relevant, and there are workarounds, such as manipulating where the FOV is focusing to capture the necessary data. If I were buying a new machine today, I would aim for something in the 8-by-10-cm or 10-by-10-cm range.
Is the Price Right?
As the FOV increases, so does the cost of the machine. Overall, though, the prices of CBCT machines continue to decrease as competition increases. Today's market offers machines at a range of prices. Generally, you can expect to pay $50,000–$100,000 for a small-to-midsize CBCT machine. If you don't have the cash, you can finance through traditional banks or supply companies like Henry Schein®, Benco Dental™ and Patterson Dental. I financed mine for over 72 months with monthly payments around $1,300. I was also able to purchase a refurbished machine, which cost $9,000 less than a new one and came with all the same warranties. Some companies may offer bundled deals that include a CBCT machine with other new technology, such as intraoral digital impression scanners, which can make it easier and more affordable to update the technology in your practice all at once.
When it comes to patient charges, I've heard varying philosophies. Some dentists advocate not charging anything, and others advocate crediting the scanning charge back to the patient's account if they choose to move forward with treatment. I settled on $250 per scan; however, there are many times I'll do it for free. For example, on an implant case, I'll only charge for one scan per case. If I need a second scan a few months later, I won't charge the patient again. I also have a reduced fee for small-FOV scans. In a typical month, I will charge for four to six scans (dental billing codes D0364–D0368). This essentially covers my monthly loan payment, while the machine itself allows me to diagnose and treat cases that I otherwise would not be able to accept, leading to increased revenue. In this way, CBCT machines are a great return on investment.
A brief note about insurance coverage: So far, we have only seen one or two cases where a patient's dental insurance covered CBCT scans. Our office informs the patient that the cost of the scan will be completely out of pocket, but we will submit it to their insurance as a courtesy. I should also note that we are not currently billing to medical insurance, but there are some offices that do successfully bill to medical. If you're considering this, I suggest you take a course specifically tailored to medical billing or work with a third party who will take care of the paperwork for you.
All Software Plays Nice
Initially, I was very concerned about the CBCT software that accompanies the machine. In fact, one of the main reasons I chose Planmeca over its competitors is that the software looked very intuitive and easy to learn — but that ended up not being important at all.
The truth is that any software you use regularly will become familiar and easy to use. There will be a learning curve with all software programs. This past year, I had the opportunity to use an Acteon® CBCT machine and software while attending an Implant Pathway course. Although I didn't master the software in three days, I was certainly capable of navigating through the 3D scans in order to see everything I needed to.
All CBCT machines export the same raw data in the digital imaging and communications in medicine (DICOM) format, which can then be opened in various viewing and planning software programs. Although Planmeca's Romexis® software is great, I design all my surgical guides in Blue Sky Bio's free software, Blue Sky Plan®. Prior to designing my own guides, I would send the DICOM files to a lab that was using coDiagnostiX® from Dental Wings. Other labs may use Anatomage, 3Shape's Implant Studio or various other software programs. The point is not to be persuaded by the sales representative's pitch about how great the proprietary software is. In my opinion, it doesn't matter, and it shouldn't be a consideration when choosing a machine.
Support When You Need It
A major factor in my decision to choose Planmeca was the support I received through Henry Schein. The representatives found a buyer for my existing panoramic machine, handled the installation and staff training, and have been available to support any issues we've encountered along the way. When I made my purchase, I was deciding between Vatech and Planmeca machines. Vatech (sold through Benco) did not have a territory representative in my area at the time, and I was concerned about accessing support. I ended up choosing a more expensive machine because this was so important to me. Today, Vatech has great representation and support in my area, and I will strongly consider its technology for my next purchase.
Narrowing the Field
So how many machines should you consider? Carestream, Vatech, Planmeca, Dentsply Sirona, i-CAT™, KaVo™, Acteon and Rayscan are all great places to start. My advice is to narrow your options and bring no more than three sales representatives into your office. Much of the information you need can be found online, including FOV options, physical footprint, special features and sometimes even pricing. Narrow it down to three choices, then contact local sales representatives.
Once you've listened to the sales pitches, ask for referrals in your area. Talk to other dentists who have already made the purchase, and see what they think about the machines you're considering and the company they're working with. Negotiate cost if possible. Look into warranties, check out financing options, and find out how the company supports its clients. Make a decision, and jump in. You won't regret it.
CBCT Machines at a Glance
After determining the specifics you need for your practice, the next step in choosing the perfect machine is identifying what options are available on the market to meet your needs. Here is a list of entry- to mid-level machines to jump-start your search.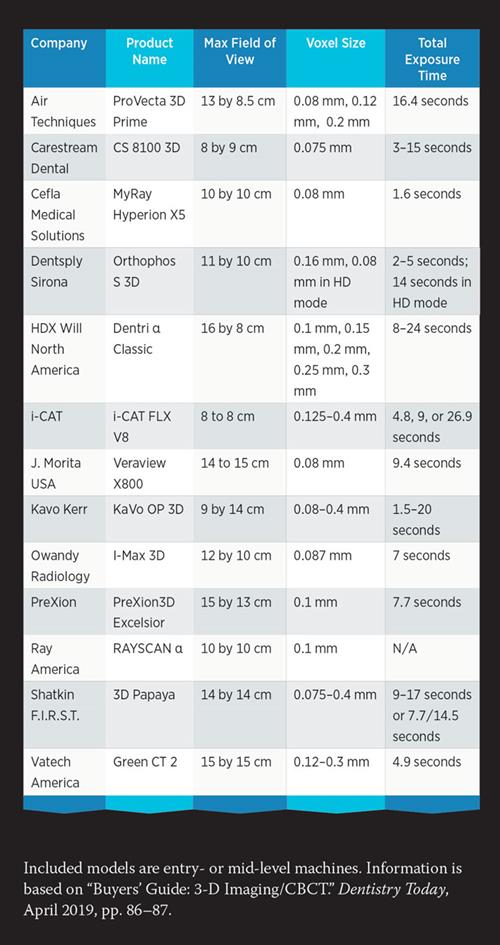 David A. Scardella, DMD, is a practicing general dentist and owner of Center for Progressive Dentistry in Duxbury, Massachusetts. To comment on this article, email impact@agd.org.
To access more news for general dentists, check out the
February issue of AGD Impact.