Make Dentistry More Fun than Ever
by AGD Staff
Apr 1, 2019, 15:44 PM
Ever feel like the thrill is gone? Sure, you love what you do, but if you've been doing it for a while, things can start to get a little too, dare we say, boring. It's in our nature to want to strive and grow. We yearn for inspiration, but the realities of everyday life and the temptation to rest on our laurels can sometimes get in the way.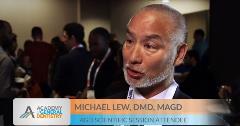 "About ten years ago I heard an AGD speaker say that if you are getting close to retirement, it might be time to learn some new skills that will keep you interested. On that recommendation, I got my Masters and dentistry has never been better for me. Thank you to the AGD for making dentistry more fun than ever!" –Michael Lew, DMD, MAGD
The AGD scientific session was created to inspire dentists. It's a place where they can come and learn new techniques and actually take what they've learned and apply it to their practice. Not only are the course materials stimulating, but being surrounded by other dentists who have the same passion is incredibly motivating. Then, at the end of the day, there will be a variety of exciting activities including a talent show, wine down educational sessions and comedy show, where you can strengthen your bond with these dentists and create lifetime connections.
Don't let your career become stagnant.
Register today for AGD2019
and make dentistry more fun than ever! It's impossible not to have fun at the Mohegan Sun's amazing resort featuring a multitude of restaurants, entertainment, shopping and tours.