AGD Foundation Highlights at AGD2022
The Academy of General Dentistry (AGD) Foundation, the philanthropic arm of AGD, is committed to raising awareness of oropharyngeal cancer, educating about risk factors and prevention, and passionately supporting the general dentist as the public's first line of defense against this deadly disease. Dentists can often detect oropharyngeal cancer in its early stages, which is why the dental community holds responsibility for raising awareness of this disease and overall oral health in both patients and the general public.

Our ultimate vision is to prevent oropharyngeal cancer and its recurrence. Through our offerings at AGD2022, such as oral cancer screenings, awareness programs and spotlighting our annual grant program, we are actively working towards this goal. Support our mission at AGD2022 by getting an oral cancer screening to raise awareness and bidding on the 2022 Electronic Auction.

Stop By For a Free Oral Cancer Screening
To raise awareness of oropharyngeal cancer, the AGD Foundation will host free oral cancer screenings for registered AGD2022 attendees, exhibitors and employees of our host hotel. Take advantage of this opportunity to help protect your health. Five minutes could save your life.

A screening takes less than five minutes. Screenings may help prevent oropharyngeal cancer through early detection and referral for suspicious lesions. AGD2022 attendees may reserve a time slot or stop by our booth to be screened as a walk-in. Hotel employees can reserve a time slot or stop by the screening location to be screened as a walk-in.

Oropharyngeal cancer is the sixth most common form of cancer worldwide, with more than 53,000 Americans expected to be diagnosed this year alone. The disease is particularly dangerous because it can go unnoticed in its preliminary stages. Early detection is key, and, in many cases, a dentist is the first healthcare provider to identify early signs and symptoms.

Support Oral Cancer Early Detection and Awareness. Participate in the Silent Auction Fundraiser!
A major part of our fundraising efforts includes the AGD Foundation Electronic Silent Auction Fundraiser. The electronic silent auction will be open 24/7 via smartphones to AGD's 40,000 members, as well as to their families and friends. Several auction items will be displayed on-site at AGD2022.

Use your smartphone, iPad, or laptop to bid on hotel getaway packages, state-of-the-art dental
equipment and dental instruments, CE courses, artwork, jewelry, and more.
Learn About Our Grant Program
The AGD Foundation grant program offers financial support to AGD constituents and not-for-profit community-based and community-driven outreach programs that promote oral cancer prevention and education with a focus on raising awareness.

In 2021, a total of $16,687.20 in grant funding was awarded to the following organizations in their support of their oral cancer awareness initiatives:

Florida Dental Association Foundation
West Virginia University Foundation, Inc.
Chatham County Safety Net Planning Council
Team Maureen

AGD constituents are encouraged to visit the AGD Foundation Booth to learn more about the grant program.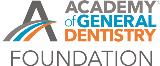 The AGD Foundation is grateful for the following corporate donors for their support.