AGD Foundation Highlights at AGD2021
The AGD Foundation has committed to raising awareness of oral cancer, risk factor prevention, and supporting the general dentist as the public's first line of defense against this deadly disease. Early detection is key. Because dentists often can detect the disease in its early stages, the dental community is positioned to serve as the first line of defense against oral cancer.

Oral Cancer Screenings
As dental health professionals, we have an opportunity and responsibility to play an active role in educating our patients and the public about oral cancer prevention and screening. Free oral cancer screenings will be offered to the employees of the Fairmont Austin Hotel and registered attendees at AGD2021.

Grant Program
The grant program offers financial support to community-based and community-driven outreach programs that promote oral cancer prevention and education with a focus on raising awareness. AGD constituents are encouraged to visit the AGD Foundation Booth to learn about the grant program.

Electronic Silent Auction Fundraiser
A major part of our fundraising efforts includes the AGD Foundation Electronic Silent Auction Fundraiser. Use your smartphone, iPad, or laptop to bid on hotel getaway packages, state-of-the-art dental equipment and dental instruments, CE courses, artwork, jewelry, and more.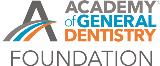 The AGD Foundation is grateful for the following corporate donors for their support.