AGD2021 Named as a Fun Dental Conference to Attend
by AGD Staff
Oct 13, 2020, 09:58 AM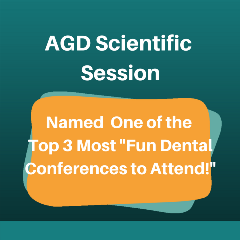 AGD's scientific session has been named by Ultralight Optics as the top three "Fun Dental Conferences to Attend!" You can read their blog post
here
.
Our scientific session prides itself on having some of the most cutting edge dental education available. From advanced hands-on education to clinical and practice management lectures in an innovative one-hour lecture format, any attendee will leave the meeting a better dentist then when they entered. But these meetings aren't all work and no play. There are a plethora of social events that allow you to decompress from your full day of learning to network with colleagues, students, and dental team members.
Each year the scientific session is held in a unique and fun location that gives the attendee the opportunity to explore a new city and all its offerings. AGD2021 is no exception. It will take place in Austin, TX, also known as 'The Live Music Capital of the World'. Check out all the
fun things to do in Austin
and learn more about
AGD2021
.