AGD2020 Networking and Events
by AGD Staff
Mar 11, 2020, 11:15 AM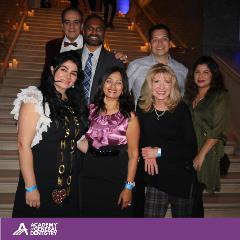 The Scientific Session is designed to be a celebration of our AGD members! While you're here to learn and grow professionally, there's still room to blow off a little steam and have fun with your peers during our events throughout the show.
Join AGD President Connie L. White, DDS, FAGD as she kicks-off the first official event at AGD2020. The President's Welcome Reception will take place on Thursday, July 16 from 5:45 p.m. – 7:30 p.m. in the exhibit hall and is free to all attendees.
Enjoy small plate dining, along with drinks and entertainment and get the chance to interact with exhibitors in a stress free environment. Get in the Vegas spirit and learn to play black jack, roulette and craps on mock gaming tables where the stakes are low, but the energy is high!
The Student and New Dentist Reception takes place on Friday, July 17 from 5 p.m. – 6 p.m. and will provide our newest members an opportunity to network with peers and AGD leaders at the expansive Alto Bar at Caesars Palace. The winners of the AGD Chapter of the Year and AGD Faculty Advisor of the Year will be announced! Drinks and hors d'oeuvres will be served.
Following the Convocation Ceremony, all attendees are invited to the last official event of AGD2020, the Convocation Celebration! This event is sponsored by Ivoclar Vivadent and will take place Saturday, July 18 from 6 p.m. – 7:30 p.m. at the exclusive event venue, OMNIA and will include hors d'oeuvres, cocktails and live entertainment.
The Convocation Celebration is our way of rewarding Fellows, Masters and LLSR recipients with an outlet to have a little fun. Awardees and recipients will have the chance to celebrate with others who made similar sacrifices to achieve these prestigious awards.
Fellows, Masters and LLSR recipients receive a complimentary ticket. Additional guest tickets are available for purchase.
Register for these events today!