Start Planning Your AGD2020 Course Schedule
by AGD Staff
Jan 9, 2020, 16:37 PM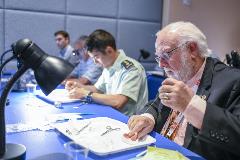 Course registration will open on Feb. 24, so it's time to start planning your continuing education schedule for Las Vegas! Popular courses tend to fill up quickly, so we encourage you to get a head start and take a look at the
current course listings
being offered. This list will continue to be updated, so check back frequently for updates. Those registered for the meeting will be among the first notified when course registration opens.
Below are a few of the educational highlights you can expect at AGD2020:

Michael C. Fling, DDS
Fixed Prosthodontics
This hands-on course will give insight into simple techniques and new materials that allow chairside alteration of color, contacts and texture on contemporary restorative materials and is worth 12 CE credits.
Steve Carstensen, DDS
Airway Therapy
This two-day special patient care program will focus on breathing disorders and is worth 12 CE credits.
Joyce Bassett, DDS, FAACD, FAGD
Esthetics and Composites
Learn about the new renaissance in esthetic dentistry and review composite materials, bonding systems and techniques for predictable outcomes in this program worth 12 CE credits.
Gigi Meinecke, DMD, FAGD
Facial Injectables
Reinvigorate your practice by adding esthetic facial injectable treatments. This anatomically based, academically rigorous and scientifically driven seminar combines cadaver study with live patient training and includes Botox® training, advanced Botox and dermal fillers.
Lee Culp, CDT
Digital Dentistry, Dental Ceramics and Functional Esthetics
Learn about innovative artisans working in the fields of digital dentistry, dental ceramics and functional esthetics and their work's diagnostic, restorative and surgical applications. 6 Credits.
Register now for AGD2020
and start mapping out your course schedule today!