Perks for Students, Residents and New Dentists
by User Not Found
Nov 1, 2019, 09:15 AM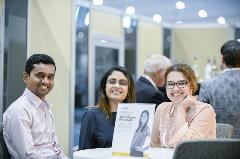 Attention students and new grads! If you are a student enrolled in dental school, in a residency program or a new dentist who graduated within the last five years, you will receive extra benefits at AGD2020.
For the fourth year in a row, AGD's Scientific Session will have the New Dentist Lounge. This is a designated area within the exhibit hall with scheduled events each day to help you get the most out of your AGD2020 experience.
While in the lounge, attendees are encouraged to partake in dedicated CE sessions, collaborative workshops, mentorship events and numerous networking opportunities.
Dental students, residents and recent graduates are also invited to submit their clinical or basic research for the AGD2020 Scientific E-Poster Session. Thirty finalists will be selected to share their e-poster presentations in Las Vegas. Three presenters will be awarded cash prizes! Submissions for abstracts will open in January 2020.
Don't forget, student and recent grad admission to AGD2020 is free! There is no better time to
register and see what AGD2020 is all about
!