Scientific Session Going Big
by User Not Found
Aug 22, 2019, 11:00 AM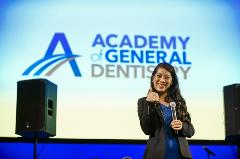 AGD's Scientific Session is packed with cutting edge educational programs that are developed with the specific needs of the general dentist in mind. From advanced hands-on education to clinical and practice management lectures in an innovative one-hour lecture format, AGD's annual Scientific Session has earned a reputation for having the finest dental continuing education in the world.
It's not all work and no play. There are an array of networking events that give attendees the chance to connect with other general dentists experiencing similar challenges and accomplishments within their own practices. Be prepared to make some lasting connections!
All of the world-class education and exciting networking events taking place in a memorable venue like Caesars Palace Las Vegas are a recipe for a truly memorable experience. It's hard to imagine all of this can take place in just two and a half days.
That's why, for the first time ever, AGD will be extending its Scientific Session to three and a half days starting on Wednesday, July 15 and extending through Saturday, July 18. This means more time for ground breaking education, more meaningful interactions with other attendees and more time to explore Fabulous Las Vegas!
Whether you're a frequent, or first time attendee, you won't want to miss this year's meeting!
Register now for AGD2020 in Las Vegas
and Make 2020 Your Year!