Unable to Make it to AGD2019?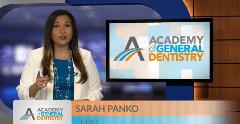 With prior professional and personal commitments to keep, maybe the stars didn't align for AGD2019. Perhaps you're new to AGD or aren't sure if it's worth the trip. Whatever the reason, we want you to get a taste of what you're missing.
For the first time, AGD will provide coverage of the Scientific Session via Facebook Live. AGD will live stream the best snippets from AGD2019 daily and will include groundbreaking CE sessions, exhibitor demonstrations, attendee interviews and other highlights. Whether you want to experience AGD's brand new Live Operatory, or are curious about some of the great social events planned, there is something for everyone to experience!
Forget the Zapruder-esque productions you've seen before. AGD is going all-out to ensure this is the best Facebook Live experience you'll have all year. A professional camera crew and host will be patrolling the event, offering unparalleled access.
Events and approximate start times include:
Th
ursday, July 18

9:45 A.M.
AGD2019 is kicking-off with an inspiring keynote address from Dr. Henry C. Lee, one of the world's foremost forensic scientists.
11:15 A.M.
Attendees will gain hands-on experience during participation courses such as Artistry and Efficiency with Composite Restorations (Anterior).
12:30 P.M.
In the Sleep Solutions Part II participation course, attendees will learn how to implement a sleep protocol and implement the medical model of sleep into their practice.
2 P.M.
Dr. BurkhardSelent from Colgate is at AGD2019 showcasing a new whitening product that is only available to dentists for their patients.
4:30 P.M.
AGD is hosting a Mentorship Event in the New Dentist Lounge to help New Dentists learn the ropes.
6:15 P.M.
The AGD2019 President's Reception is the place to be with dazzling performers, small-plate dining and cocktails.Make new friends and reconnect with old ones, all while exploring the exhibit hall and viewing the latest technology that dentistry has to offer!
Friday, July 19
9:15 A.M.
For the first time at an AGD scientific session, a live operatory resembling an actual dental office has been constructed in the exhibit hall. This is a unique opportunity to see how the latest equipment is used as a clinician performs cutting-edge procedures while another clinician narrates.
11:15 A.M.
Watch as AGD2019 attendees utilize pig jaws to learn techniques for flap elevation, flap repositioning and suturing for closure.
12:15 P.M.
Learn more about the AGD Foundation's Oral Cancer Screenings and the general dentists' role as the first line of defense against this deadly disease.
2:30 P.M.
If you're serious about taking your practice to the next level, don't miss Brennan Feld from Henry Schein One as he provides a live demonstration of his company's Practice Marketing Assessment.
5:45 P.M.
In addition to fostering professional development via great CE offerings, we're hosting a Student and New Dentist Reception in the New Dentist Lounge.
7:15 P.M.
Join us for a sneak peek into the Region 10 and PAGD Fellows and Masters Reception and see how our members unwind after a long day of learning.
All videos will be archived on AGD's
Facebook
and
YouTube
pages.
If you like what you see, we'd love to see you at AGD2020, at Caesars Palace in Las Vegas. Registration begins July 18. The first 100 registrants will receive a $15 credit for Food and Beverage at Caesars Palace and (2) tickets to the High Roller Observation Wheel! Any member who registers before July 21, 2019 will be entered into a raffle for a chance to win a 2-night stay at Paris Las Vegas which includes complimentary limo transportation from the airport, (2) tickets to a show and dinner for (2) in the Eiffel Tower.

Sponsored by Colgate and Henry Schein One