AGD2019 Opening and Closing Events!
by AGD Staff
May 8, 2019, 09:35 AM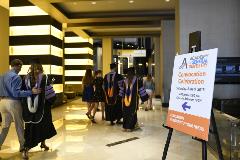 There are many events to look forward to at AGD2019. The premier meeting for general dentistry will begin and end with two of our most popular events.
Join AGD President Neil J. Gajjar, DDS, MAGD, and kick off the first official evening at AGD2019 with small-plate dining, cocktails and entertainment while you visit with exhibitors and explore the resource pavilion at the President's Welcome Reception. This exciting event will take place on Thursday, July 18, from 5 p.m. – 6:30 p.m. in the Earth Expo Center and is free for all attendees. Relax and enjoy time with your peers while soaking up all that AGD2019 has to offer!
Following the Convocation Ceremony at the end of AGD2019, all attendees are invited to the Convocation Celebration! This event will take place Saturday, July 20, from 5 p.m. – 7 p.m. Go ahead and invite your friends and family, this is our way of rewarding Fellows, Masters and LLSR recipients with an outlet to have a little fun!
Awardees and recipients will have the chance to celebrate with others who made similar sacrifices to earn the required CE, pass the exam, volunteer time and ultimately achieve their much deserved recognition. You'll be treated to hors d'oeuvres, a champagne bar and live entertainment.
All ages are welcome, but tickets are required for each guest. Awardees must register to receive a complimentary ticket. Additional tickets can be purchased at $75 for Adults and $45 for Youth (ages 3-12).
Register for these events today!