Help in the Fight against Oral Cancer
by AGD Staff
Apr 25, 2019, 11:39 AM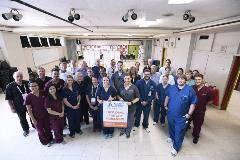 April is Oral Cancer Awareness month and dental professionals know the importance of early detection when it comes to oral health. According to the American Cancer Society's most recent estimates, over 53,000 people will get oral cavity or oropharyngeal cancer (and approximately 10,860 will die of these cancers) in 2019. It is up to general dentists to educate patients and conduct proper oral cancer examinations during their checkup.
The AGD Foundation is committed to raising awareness of oral cancer, risk factor prevention, and supporting the general dentist as the public's first line of defense against this deadly disease. To stress the importance of oral health, the AGD Foundation's oral cancer screenings will take place during AGD2019 at the Mohegan Sun, Connecticut on Friday, July 19.
If you are a licensed dentist in Connecticut, join in the fight by
volunteering
for one or more of the available time slots scheduled from 6 a.m. to 5 p.m. Participation credit for screening patients at this event can be earned by taking one or more of the approved Oral Cancer CE Courses. Although not required, you can also earn optional hour-per-hour participation credits for your screening time by participating in a
free webinar
on May 2 or one or more courses at
AGD2019
.