Be the First Line of Defense against Oral Cancer
by AGD Staff
Feb 15, 2018, 13:57 PM
Oral cancer is the sixth most common cancer, with nearly 50,000 Americans expected to be diagnosed this year. One person dies from oral cancer every hour of every day. It becomes particularly dangerous because it often goes undiagnosed in its preliminary stages.
General dentists are the first line of defense against oral cancer. They can help detect the disease in its early stages during routine dental visits, and by doing so, increase the oral cancer survival rate.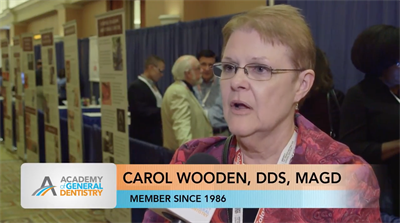 "When we talk about oral cancer, we are the gatekeeper of the oral environment and oral care. I think that we consider it a personal goal to help save people's lives by detection. The patient should go to their dentist. The dentist is going to be the one that screens them and looks for this. One of the reasons why it's not uncovered until it is in a later stage is because you really can't see it often times. If it was on your cheek or elbow you might see it but when it's in your throat or under your tongue you don't necessarily see it and it takes a professional to find that for you. It's important that the public goes to the dentist for a screening."

Sharpen Your Screening Skills
To raise awareness of this deadly disease, "Sex, Drugs & Oral Cancer," presented by Robert J. Whitman MSE, will be offered at AGD201. This course will introduce recent and emerging technologies for early detection of oral cancer. Take this course to learn more about new technologies and to enhance communications with your patients about this difficult topic.
Give Back to the New Orleans Community
The AGD Foundation will also offer free oral cancer screenings for the public, on Friday, June 8, from 9 a.m. to 3 p.m. at First Grace United Methodist Church.
The AGD Foundation is looking for dentists to volunteer their time to provide free oral cancer screenings for the public. Note: The Louisiana Board of Dentistry may grant a provisional license for any dentist who is in good standing in the state of their licensure and who wishes to provide gratuitous services to the citizens of Louisiana. If you're interested in giving back, please submit the volunteer form by April 1. For more information on this opportunity, contact foundation@agd.org.