What Sets You Apart From the Competition?
by AGD Staff
Dec 21, 2017, 14:32 PM
Dentistry is a competitive field. Are you wondering how you can stand out to patients? A great way to distinguish yourself as one of the best in the field of general dentistry and show your commitment to continuing education is by pursuing the AGD Fellowship or Mastership. These awards communicate to patients that you all are committed to continuing education on the most current oral health conditions and treatments.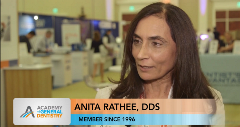 "In the dental community, I think it is very well recognized that people who have achieved these levels of awards have done a lot of continuing education, and are really kind of experts in general dentistry. I would think the public would see it the same way, if not, certainly I'm able to tell patients what it involves and how it makes me a better dentist and how it allows me to apply these things in my own practice."

AGD Fellows and Masters Recipients are recognized annually during the AGD Convocation Ceremony, which is held during AGD's Scientific Session. All applications must be postmarked by or before Dec., 2017 if you want to receive Fellowship or Mastership in 2018.