"Now" Generation Teaching the "Next" Generation
by AGD Staff
Dec 8, 2017, 08:34 AM
Step out of the audience and up to the podium by becoming a speaker at AGD2018. AGD Fellows and Masters are invited to present their documented case studies in "Dental Pearls from Our Fellows and Masters" — which was one of the most well-attended courses at both AGD2016 and AGD2017. In addition, all AGD members are encouraged to submit proposals for a 50-minute, symposium-style clinical lecture as a part of the Emerging Speakers series.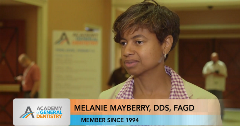 "We are either the now generation or we are the next generation and having been out of school for over 20 years or so, I would consider myself the now generation. I think it is important to recognize that there is a next generation coming. That healthcare is changing, that practices are changing, that collaborative care, coordinated care, and team based care and increasing better healthcare outcomes is really really important."
With dentistry changing constantly, it is important to hear from professionals within the industry who have handled similar obstacles or day-to-day tasks. AGD is looking for passionate speakers who can deliver an authentic message to the audience. All abstracts are due no later than Jan. 5, 2018. Submit your abstract today.