The Importance of Safe Sedation: A Life or Death Matter
by AGD Staff
Nov 10, 2017, 13:50 PM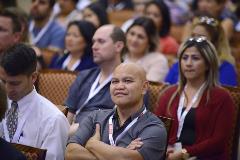 You hear it all the time in the news. "Mother wants lawmakers to take closer look at sedation dentistry," "2-year-old girl dies under anesthesia at dentist," "Parents who lost son in dentist's chair struggle to toughen rules." There is no question that sedation can be a life or death matter. That's why it is so important to understand how to administer sedation safely. To help minimize adverse sedation events, AGD2018 will be offering a two-day course presented by Josh Jackstien, DDS, and Kevin Croft, DDS, in collaboration with the American Society of Dentist Anesthesiologists (ASDA).
Day 1, Morning Session: "Conscious Sedation" and other 4-letter words.
There are different depths of sedation: minimal, moderate, and deep sedation, and general anesthesia. It's important to fully understand each degree of dental sedation to be able to correctly administer it. This session will explore the history of sedation and give participants the tools for outlining the sedation spectrum.
Day 1, Afternoon Session: Safe Sedation: A "Pot-ay-to Pat-ah-to" or "life vs death" discussion?
This session dives into the do's and don'ts of safe sedation. Participants will compare capnography and precordial stethoscope airway monitoring techniques as well as various sedation methods in order to provide safe and efficient care to the patient.
Day 2, Morning Session: Pain and Anxiety: "When Traditional Patient Management Fails"
In an ideal world, every procedure goes according to plan. However, when something goes astray, it's important to be prepared. This session will discuss options for pain and anxiety management in situations where local anesthesia and nitrous oxide alone are ineffective. It is crucial to know the patients' medical history to determine when and if it's appropriate to refer them. Case studies will be shared to give participants insight on how to handle multiple scenarios.
Day 2, Afternoon Session: Preparing for the Unexpected, "When Seconds Matter"
In cases of emergency, it is vital to have all supplies on hand and to understand which ones are appropriate. During this hands-on, interactive session, participants will learn and be able to discuss how to recognize and treat some of the more common pain and anxiety mishaps/emergencies that may arise in the course of practice. Using simulated experiences, participants will learn proper airway skills as well as the correct way to start an IV. They will also learn IM/IO techniques for effective medication delivery in an emergency situation.
Preparation, practice and knowledge are so important when it comes to safe sedation. By doing these things you can improve the safety of your patients. Register now for AGD2018 to be among the first to sign up for this two-day session when course registration opens up in January.