Worth the Trip? A Look at Dental Tourism
by

Elizabeth Newman

Jan 20, 2020
This is a Self-Instruction article worth 1 CE credit. The exercise can be purchased and answers submitted at agd.org/self-instruction.
With the constantly rising costs of healthcare, many Americans and Canadians are making difficult decisions about their health, including sometimes forgoing routine preventive care as a way to save money. This includes dental care, which can result in patients requiring even more expensive and complicated emergency care down the road.
One way that many Americans and Canadians are choosing to save money on costly dental treatments is by traveling abroad to have the work done for less. Medical and dental tourism — patients traveling to other countries for cheaper medical or dental care — has occurred throughout history, and today it's as popular as ever. An entire industry revolves around connecting patients with care in other countries. However, patients should consider several important questions before taking a trip to a foreign country for any kind of dental treatment: Do the cost savings outweigh the risks of entrusting a dentist in another country with their oral health? What research should they perform to find the right dentist? And, for dentists who hear patients expressing interest in dental tourism, what advice can they give to help ensure the best possible outcomes?
Why Seek Treatment Abroad?
Medical and dental tourists travel to other countries for a few reasons. According to the Centers for Disease Control and Prevention (CDC), some may be immigrants who wish to travel back to their home countries for care. Others travel because a certain procedure or treatment is not available in their country. Many others go for specific treatments because the costs are significantly less. The CDC reports that most patients travel to other countries seeking cosmetic/plastic surgery, dental care and heart surgery.1
How much can patients really save? According to Patients Beyond Borders, a company that researches medical procedures in other countries in order to inform medical tourists, the top 10 destinations for dental tourism among U.S. patients are Mexico, Thailand, Hungary, Spain, Poland, Costa Rica, the Philippines, Malaysia, Turkey and the Czech Republic. U.S. patients can expect to save 40%–65% in Mexico, 45%–65% in Costa Rica, and 50%–75% in Thailand.2 Average costs for several common procedures in each of the top 10 dental tourism destinations are illustrated below.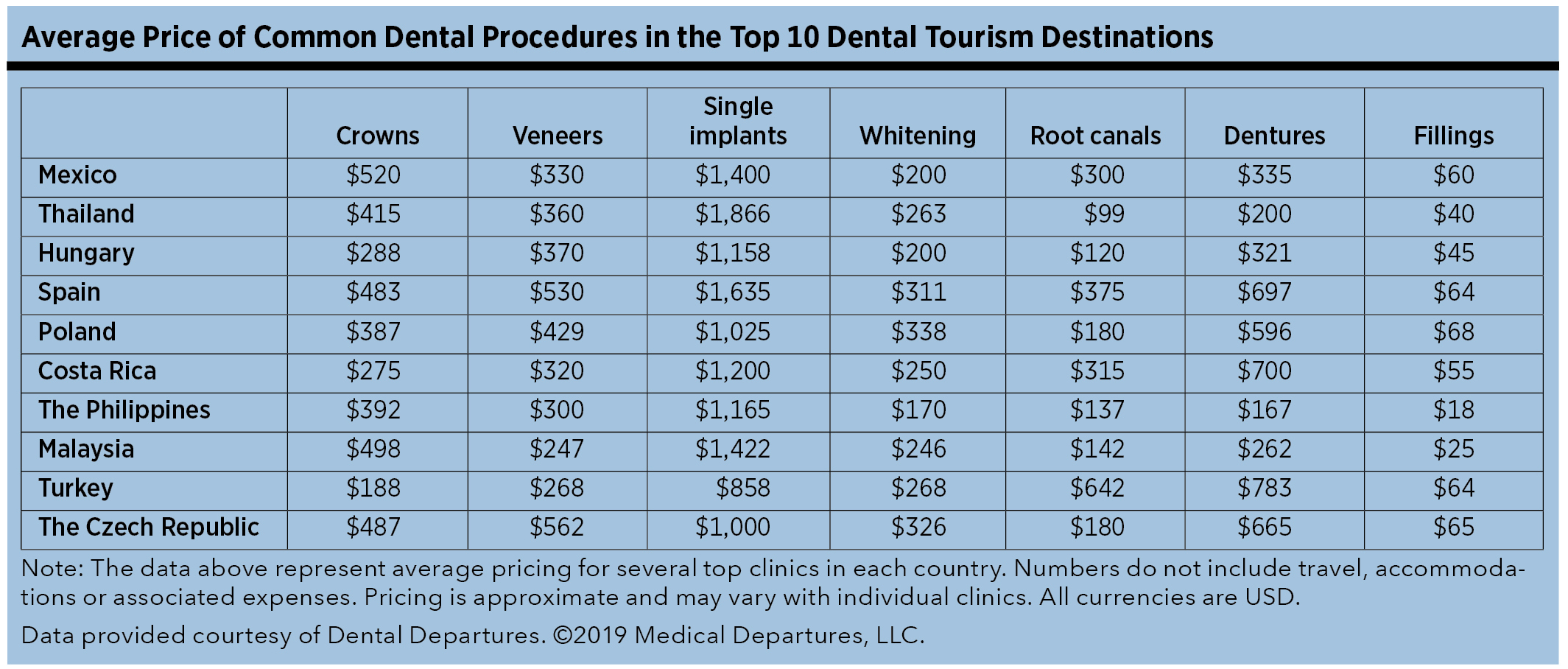 How is it possible for patients to save so much in these countries? In a country like Mexico, the cost of living is significantly less compared with the United States and Canada, making it much more feasible for dentists to own and operate a practice. In addition, dentists in Mexico are not required to pay for malpractice insurance. Mexican dentists also carry less student loan debt than U.S. dentists due to government subsidies. They repay these subsidies with one year of free service after school.3
Many patients combine dental care with a vacation. News media is filled with testimonials from patients who saved thousands of dollars by seeking dental care in another country while on vacation. A Washington Post reporter chronicled his experience having five crowns replaced in Costa Rica.
"It would take a few days to make the crowns, so my wife and I took a short flight to the Drake Bay area, where we snorkeled, swam and poked around the mangroves," wrote the reporter.4 With airfare, accommodations, food and the dental work he received, his total trip cost around $4,000 — about $1,000 less than his out-of-pocket dental expenses alone would have been in the United States.
U.S. residents living near the U.S.-Mexico border — or those willing to drive there — can save even more by driving to Mexico rather than flying. The vast majority of these dental care seekers travel to one destination — the small town of Los Algodones.
The Allure of "Molar City"
Just on the other side of the Colorado River, about a 30-minute drive from Yuma, Arizona, the small Mexican town of Los Algodones bills itself as "Molar City." The city only has around 5,000 permanent residents, but thousands of tourists flock to the city every year to take advantage of the approximately 350 dentists in the downtown area.3 Some clinics even offer transportation to and from airports or other metropolitan areas.5
Los Algodones' economy was built around dental tourism. The large number of dental offices there also have access to the many dental labs in town, which means dental work is fast — and cheap. Prices are on average one-third the cost of their U.S. equivalents, and some patients report even lower prices.3
While many people report successful dental procedures in Los Algodones, some have been not so pleasant. And, if patients return from Mexico and discover the work they received is subpar, they turn to local dentists to help.
Craig Barrows, DDS, is a general dentist practicing in Yuma. He says around 90,000 tourists travel to Yuma and stay during the winter months — many of them Canadian — and that many of these winter visitors also take advantage of Yuma's proximity to Los Algodones. He's seen his share of patients who were unhappy with the work they received there, and he says that U.S. patients who travel to Los Algodones get "completely taken advantage of." He describes a patient who had $25,000 worth of implants placed in Los Algodones and came to him for follow-up care after realizing the implants were infected. None of the implants were guaranteed, significantly impacting the cost savings the patient initially anticipated by going to Mexico.
A Growing Trend
With the increasing popularity of dental tourism over the past 10 years, companies have been created to research and plan trips for medical tourists. Companies like Patients Beyond Borders and Dental Departures connect patients to international healthcare providers through marketing services.
According to its website, Patients Beyond Borders is a resource for patients and healthcare professionals. Founder and CEO Josef Woodman states that he has spent more than a decade "researching and vetting international options for quality, affordable medical care," which also includes dental care.2
Potential medical tourists can consult with companies like Patients Beyond Borders to select reputable clinics. Some of the criteria the company uses to vet healthcare sites include:
Being accredited by a reliable, globally recognized accreditation organization.
Being in good legal standing.
Having a website in English.
Listing key physicians on its website.
Having identifiable services offered to patients.2
Another factor to consider is insurance. Some insurance companies, including GeoBlue (which is affiliated with Blue Cross Blue Shield), Aetna and Cigna, offer specific medical and dental coverage for people who are traveling outside of the United States.6–8 Doing so saves insurance companies money because they're paying out much less than they would for these procedures in the United States. Some employers have even gone a step further and will cover entire medical tourism trips for employees.9
Barrows' wife is a public school teacher. He says that Yuma city government workers and other public employees are made aware that their insurance covers medical and dental treatment in Los Algodones — his newest insurance card under his wife's family policy specifically states that the policy is accepted in Mexico. Barrows says there are cons to this as well, and cites a new patient who presented to his office with pain after having amalgam fillings on almost all of her molars replaced with composite in Mexico. Upon the patient's request, Barrows replaced all of the fillings to relieve her pain. However, problems arose later because the patient's insurance had already covered the less expensive fillings placed in Mexico, so the claim for the fillings Barrows replaced was rejected, leaving the patient to pay cash.
Dental Tourism in Europe
Dental tourism is broader than just North America; people in other countries are also traveling for dental care. The practice is also common in Europe. Britons often travel to Hungary, Slovakia and Poland for lower prices.10 Irish people go to India, the United Arab Emirates, Malta and Turkey.11 Like Los Algodones, many European countries are publicizing their desire for patients from countries with higher costs of living. Both Poland and Croatia have spent millions developing public relations campaigns promoting their medical tourism.12 It appears to be working — medical tourism in Europe has been growing 12%–15% annually.13
U.S. citizens can also take advantage of these European markets. With a valid U.S. passport, patients can visit any country in Europe's Schengen Area for a duration of up to 90 days without requiring a visa.14 The Schengen Area includes three of the top 10 global dental tourism countries (Hungary, Spain and the Czech Republic).15 While in Europe for dental treatment, U.S. dental tourists can also travel to other countries in the Schengen Area as part of a European vacation.
Within the European Union, a number of organizations are working to standardize the quality of dental education and care within the member countries in order to facilitate freedom of movement for healthcare professionals.16 Currently, the Association for Dental Education in Europe promotes this mission in the education sector, and the Federation of European Dental Competent Authorities and Regulators promotes standardization within the clinical sector.17,18 These efforts benefit all patients as the consistency of care increases, although U.S. patients should still anticipate regional and national differences in care.16
Advice and Considerations for Dentists and Their Patients
Dentists may encounter patients who are interested in dental tourism. While they should not immediately discourage the idea, all dentists should insist on one central point: Do your research.
The CDC advises anyone seeking healthcare outside of the United States to do thorough research about medications, infection control and antibiotic-resistant bacteria. They should also investigate the standards by which facilities are measured in order to be accredited by organizations such as Joint Commission International, DNV GL International Accreditation for Hospitals and the International Society for Quality in Healthcare.1 If something goes wrong, patients must also be aware of the options they have to obtain retreatment, manage posttreatment complications or pursue refunds and restitution. Some countries have ministries of health. Others have different forums for complaints.
Patients should stick to the facts and not be enticed by marketing. Mexican dentists, Barrows says, can advertise on their websites that they are U.S.–trained but may have taken only a two-day course in the United States, giving unknowing patients the false impression that these dentists received their dental degrees from U.S. dental schools. Patients may want to request providers' résumés beforehand so they can evaluate educational backgrounds and experience. Because patients may be unfamiliar with the educational institutions in other countries, they may need to identify the organizations in each country that accredit dental schools in order to ensure they will receive the same level of care abroad.
Dentists also may want to advise patients to work with consultants like Patients Beyond Borders that do some of the legwork of screening providers. Websites such as WhatClinic.com provide client reviews of dentists in other countries. Patients may also want to investigate whether a dentist is a member of an international organized dental body. If patients are interested in esthetic procedures, for example, they may want to look at dentist listings in the International Federation of Esthetic Dentistry or, if visiting a European country, the European Academy of Esthetic Dentistry. Many U.S. organizations like the American Academy of Esthetic Dentistry and the American Academy of Cosmetic Dentistry also accept international members.19,20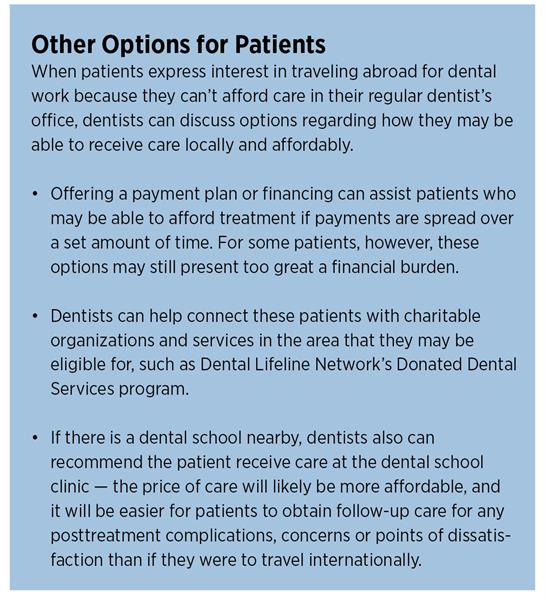 When a patient expresses interest in dental tourism, it is an important opportunity for U.S. and Canadian dentists to demonstrate their value as patient oral health advocates. Traveling abroad to receive cheaper dental care is certainly not a decision many dentists will agree with — aside from the loss of revenue, the dentist also may feel devalued. However, for some patients, dental tourism may be inevitable. Serving as a resource for expert advice and stressing the need for proper research before the trip, and being proactive in requesting treatment records upon the patient's return, will all help maintain the patient relationship.
Elizabeth Newman is a freelance writer, editor and teacher in Chicago. To comment on this article, email impact@agd.org.
References
"Medical Tourism." Centers for Disease Control and Prevention, 5 Dec. 2016, www.cdc.gov/features/medicaltourism/index.html. Accessed 13 Nov. 2019.
Healthy Travel Media. Patients Beyond Borders, www.patientsbeyondborders.com. Accessed 13 Nov. 2019.
Robbins, Ted. "A Reason To Smile: Mexican Town Is A Destination For Dental Tourism." NPR, 9 June 2014, www.npr.org/sections/health-shots/2014/06/09/318212444/a-reason-to-smile-mexican-town-is-a-destination-for-dental-tourism. Accessed 13 Nov. 2019.
Salmon, Mike. "Dental Tourism — Bargain Dentistry and a Vacation to Boot." The Washington Post, 1 Sept. 2019, www.washingtonpost.com/health/dental-tourism--bargain-dentistry-and-a-vacation-to-boot/2019/08/30/4fd4a466-aef0-11e9-a0c9-6d2d7818f3da_story.html. Accessed 19 Nov. 2019.
Dayo Global Medical Network LLC. Dayo Dental, www.dayodental.com. Accessed 13 Nov. 2019.
Worldwide Insurance Services LLC. "GeoBlue: Travel Medical & International Health Insurance." GeoBlue, www.geobluetravelinsurance.com. Accessed 19 Nov. 2019.
"International Health Insurance." Aetna International, www.aetnainternational.com/en/individuals.html. Accessed 17 Nov. 2019.
"Cigna International Health Insurance." Cigna, www.cigna.com/international/. Accessed 17 Nov. 2019.
Orenstein, Beth. "Medical Tourism Might Be Just the Ticket." Insure.com, www.insure.com/health-insurance/medical-tourism.html. Accessed 17 Nov. 2019.
Telegraph Financial Solutions. "Paying for Dental Treatment Abroad." The Telegraph, 18 Oct. 2019, www.telegraph.co.uk/financial-services/currency-exchange/international-money-transfers/paying-dental-work-abroad/. Accessed 19 Nov. 2019.
Quinlan, Áilin. "Air Smiles: Is Economy-Class Dental Tourism Worth the Risk?" Irish Examiner, 10 April 2018, www.irishexaminer.com/breakingnews/lifestyle/healthandlife/air-smiles-is-economy-class-dental-tourism-worth-the-risk-861150.html. Accessed 19 Nov. 2019.
Bradbury, Paul. "Lessons From Poland: How to Develop Medical Tourism in Central Europe." Total Croatia News, 23 Oct. 2019, www.total-croatia-news.com/business/39200-lessons-from-poland. Accessed 19 Nov. 2019.
Wasik, Zosia. "Medical Tourism on the Rise in Central and Eastern Europe." Financial Times, 19 Oct. 2017, www.ft.com/content/24d0e36c-72eb-11e7-93ff-99f383b09ff9. Accessed 19 Nov. 2019.
U.S. Department of State — Bureau of Consular Affairs. "U.S. Travelers in Europe." Travel.State.Gov, updated 6 Nov. 2019, www.travel.state.gov/content/travel/en/international-travel/before-you-go/travelers-with-special-considerations/schengen.html. Accessed 20 Nov. 2019.
"Schengen Area — The World's Largest Visa Free Zone." Schengen Visa Info, updated 1 Oct. 2019, www.schengenvisainfo.com/schengen-visa-countries-list/. Accessed 20 Nov. 2019.
Allen, W.R. "Dental Education in the European Union." British Dental Journal, vol. 188, supplement, Sept. 2005, pp. 33-34.
Association for Dental Education in Europe. "About the ADEE." ADEE, www.adee.org/about/index.html. Accessed 20 Nov. 2019.
Federation of European Dental Competent Authorities and Regulators. "What is FEDCAR?" FEDCAR, www.fedcar.eu/en/. Accessed 20 Nov. 2019.
"About AAED." American Academy of Esthetic Dentistry, www.estheticacademy.org/page/AboutAAED. Accessed 19 Nov. 2019.
"Membership." American Academy of Cosmetic Dentistry, www.aacd.com/membership. Accessed 19 Nov. 2019.