CDC Releases New Dental Antibiotic Stewardship Resources
by

AGD Staff

May 15, 2023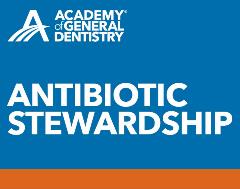 The Centers for Disease Control and Prevention (CDC) recently released new dental antibiotic stewardship resources. According to the CDC, dentists use approximately 10% of all antibiotics in the United States. Public health officials contend that prescribing habits can be improved.

Resources include:
NEW: Dentists: Be Antibiotics Aware – Treating Patients with Dental Pain and Swelling fact sheet. This resource summarizes updated American Dental Association treatment guidelines on when antibiotic prescribing is and is not needed for specific dental conditions. In addition, it addresses different conditions and interventions recommended in the treatment guidelines.
NEW: on-demand recordings from the Antibiotic Stewardship Summit. In collaboration with the Organization for Safety, Asepsis and Prevention, on Jan. 22, the CDC participated in an antibiotic stewardship summit to address antibiotic stewardship in the dental healthcare setting. During this meeting, guidelines for the treatment of oral infections, prophylaxis (or preventive medical treatment), antibiotic-related adverse events, Clostridium difficile infection, and antimicrobial resistance were reviewed. Challenges to responsible prescribing were discussed. The recordings are now available online for free.
UPDATED: Antibiotic Use for a Safe Dental Visit brochure. This resource can be used by dentists to inform patients and their families about using antibiotics appropriately for a safe dental visit.
Visit the CDC for oral health topics.