General Dentists Honored at AGD's 2021 Annual Meeting
by

AGD Staff

Nov 22, 2021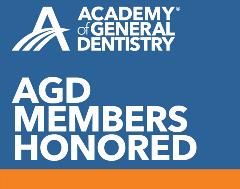 General dentistry benefits from the talents of so many people, and AGD leaders were pleased to honor the following members at AGD's annual meeting, Nov. 19–21.

Distinguished Service Award
AGD's 2021 Distinguished Service Award was presented to Dwight D. Duckworth, DDS, MAGD. This award recognizes an AGD council, committee or task force member who has exhibited outstanding leadership capabilities and whose contributions have resulted in significant and fundamental advances toward fulfilling AGD's overall mission. Duckworth is from Springdale, Arkansas, and is recognized for his ongoing work serving his local constituency and his overall service to AGD.

Duckworth joined AGD in 1989 and has given more than 30 years of service to the organization. Since joining, he has served his local Arkansas AGD constituency in many capacities. He is the former president of the Arkansas AGD and the past chair of the AGD Examination Council and the Fellowship Exam Committee, where he chaired the development and assessment teams.

In addition to his service to AGD, Duckworth has contributed an equal amount of time in service to other dental organizations. He served five years on the executive council for the Arkansas State Dental Association and serves as a consultant for the Arkansas Dental Association publication Arkansas Dentistry. Duckworth's colleagues recognize him as someone who rallies and inspires others around him. He is described as a goal-getter and an enthusiastic leader. His leadership success is attributed to his hard-working nature and ability to promote others when needed. He is also described as someone with an innate ability to inspire others and oversee the many different personalities involved with successful committee and council work.

Humanitarian Award
AGD honored Wisconsin dentist Robb A. Warren, DDS, as the 2021 Humanitarian Award Winner. The Humanitarian Award is presented to a dentist who contributes voluntary service in conjunction with a consistent commitment to enhancing the image of general dentistry through the continuous delivery of quality dental care.

Warren is a general dentist from Wisconsin. Through volunteerism, he has served and continues to help many local dental organizations. He is a member of the Wisconsin AGD and is the University of Wisconsin Team Dentist, and he also serves on the Dane County Dental Society, where he has held several board positions. He is a member of the Wisconsin Dental Association, where he serves as the foundation director. Warren is the lead dentist for Special Olympics – Mission of Mercy and has served as a host and volunteer for Special Olympics of Wisconsin Give Athletes a Smile Day. He is also a member of Smile for Life Foundation.

Ritz Award
AGD's 2021 Dr. Mark Ritz Advocate for Dentistry Award was presented to W. Mark Donald, DMD, MAGD. The Ritz Award is named after Dr. Ritz, a well-known and respected AGD leader for his advocacy efforts in organized dentistry. The recipient of this award must distinguish themselves with national-level advocacy in an active, visible and successful manner, but not precluding state or local advocacy.

Donald, who has been an AGD member for over 33 years, is the fifth AGD member to receive this prestigious award since its inception.

He is a passionate advocate for general dentists and works closely with policymakers and colleagues to support the profession. His service is highlighted in his former roles on the AGD Legislative & Governmental Affairs Council and as its chair for three years.

He has represented AGD at the National Conference of State Legislatures and the American Legislative Exchange Council. He has served as AGD president and speaker of the house and president of the AGD Foundation. He has also held many leadership roles throughout the organization and with the Mississippi AGD, including membership chair, legislative chair, vice president, president and delegate.

Donald is currently speaker of the house for the American Dental Association (ADA). He has also served as speaker, president and an ADA delegate with the Mississippi Dental Association.

Donald is a 1988 graduate of the University of Mississippi School of Dentistry, where he has also taught as an adjunct faculty since 2015. He is in full-time private practice in Louisville, Mississippi.

Honorary Membership
AGD honored Washington AGD Executive Director and Region 11 Executive Director Valerie Bartoli with an Honorary Membership. Bartoli has supported Washington AGD and Region 11 operations for over 20 years and has been instrumental in the organization's growth and ability to serve general dentists in the area. Through her tireless efforts, Washington AGD has grown in membership by over 33% and has become a recognized leader in oral cancer advocacy by producing key resources that have enhanced education and increased awareness.

Bartoli has committed to programs that raise money for oral cancer, including in the donation of over $5,000 per year for oral cancer advocacy. She is also responsible for helping Washington AGD develop a ten-chair hands-on clinic with an extensive teaching center and video production center to teach its Mastertrack program and provide treatment for veterans and the underserved.

During COVID-19 shutdowns, Bartoli, along with the Washington AGD board, provided over 40 free webinars to keep AGD members engaged. She has also worked to collaborate with Washington ADA constituents to produce continuing education activities. Bartoli has served on the AGD Foundation board for the last three years and shared her expertise in fundraising and gala event planning as well as her general passion for helping educate the public about oral cancer.

Presidential Citations
Immediate Past President Cassis presented Presidential Citations to the following AGD members and staff who supported the organization and his work:
Joseph A. Battaglia, DMD, FAGD
Jennifer S. Bell, DDS, FAGD
Myron J. Bromberg, DDS
Chethan Chetty, DDS, MAGD
Elizabeth A. Clemente, DDS, MAGD
Jeffrey B. Geno, DDS, MAGD
Steven A. Ghareeb, DDS, FAGD
Timothy F. Kosinski, DDS, MAGD
Joseph A. Picone, DMD, MAGD
George J. Schmidt, DMD, FAGD

Former AGD Editor Honored
Longtime AGD Editor Roger D. Winland, DDS, MS, MAGD, who retired in 2020, was honored this year for his 24 years of consecutive service to AGD and the dental publishing community with the American Association of Dental Editors and Journalists Distinguished Editors Award.