Latest Blog Post Showcases AGD's Scientific Session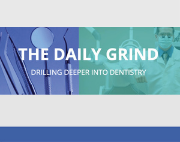 AGD's blog, "The Daily Grind," offers insight and reflections from dental students and practicing general dentists. Recently, George J. Schmidt, DMD, FAGD, chair, Dental Education Council, highlighted the 2021 Convocation Ceremony for Fellows, Masters and Lifelong Learning and Service Recognition recipients and the excitement that AGD was able to commemorate these accomplishments.
Visit
The Daily Grind
to read his account.