Stay Apprised of AGD's Advocacy Efforts May Update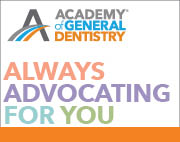 As federal policymakers and legislators work to draft bills and regulations related to COVID-19, it is a challenge and an opportunity to ensure a full understanding of the impact that these policies have on general dentists, dental students and oral health delivery. One of AGD's priorities during this time is to constantly connect with Congress and regulators to ensure they understand the impact of these proposals on oral health and dentistry.
---
Updates and new information are posted on agd.org/coronavirus and the COVID-19 Advocacy page. You are invited to get involved on our Take Action page.
---
Over the past month and a half, AGD has submitted comments and advocated for general dentists on a range of issues, including the following letters that have been sent in response to this public health emergency:
5/1/20

AGD Contacts Members of Congress to advocate for dentistry in upcoming stimulus legislation. The AGD asked members who live in the Congressional Districts of members of the Opening Up America Again Congressional Group to contact their Senators and Representatives and urge them to address several critical issues for dentistry in upcoming Congressional actions. In total, 1,500 letters were sent to the Congressional group.

4/28/20

Dr. White sends support for HEROES Act

Dr. White contacted Representative Bill Huizenga to convey support for the Helping Emergency Responders Overcome Emergency Situations (HEROES) Act. The HEROES Act will provide relief for dentists experiencing a decline in collections and would provide a four-month federal income tax holiday for medical professionals, such as dentists.

4/23/20

AGD sent a letter to U.S. offices — including theCenters for Disease Control and Prevention,Occupational Safety and Health Administration,National Institute of Occupational Safety and Health, andFederal Emergency Management Agency— to request input on the development of COVID-19-related guidelines for reopening dental operations.

4/22/20

AGD signed an organized dentistry coalition letter to Assistant Secretary for Health Adm. Brett P. Girior, MD, requesting federal authorization for dentists to conduct point-of-care testing for COVID-19.Read the letter.

4/17/20

AGD signed onto an organized dentistry coalition letter recommending that the U.S. Department of Health and Human Services (HHS) provide immediate access to capital by releasing funding from the CARES Act Provider Relief Fund to dentists who are Medicaid providers.Read the letter.

4/16/20

AGD sent a letter to Congress to supplement funding for PPE and EIDL programs.Read the letter.

AGD sent a letter to Environment Protection Agency Administrator Andrew R. Wheeler to delay the start date of the amalgam separator final rule.Read the letter.

4/15/20

AGD sent a letter to U.S. governors and state dental and health boards requesting to broaden the scope of Prescription Drug Monitoring Programs (PDMPs) to be used for COVID-19 patients.Read the letter.

(To accompany the letter, AGD issued a call to action to its members. In the first two days, more than 2,300 AGD members contacted their governors asking that authorization be provided for dentists to perform point-of-care COVID-19 tests and that the scope of state PDMPs be broadened to include results of COVID-19 tests.)

4/13/20

AGD signed onto an organized dental coalition letter requesting Congress include emergency financial relief and stability for 501(c)(6) tax-exempt medical and trade associations in the next phase of COVID-19 legislation.Read the letter.

4/11/20

AGD sent a letter to U.S. Public Health Service Chief Dental Officer Adm. Timothy L. Ricks, DMD, MPH, requesting authorization of dentists to order and administer FDA-approved point-of-care COVID-19 tests. The letter from AGD President Connie L. White, DDS, FAGD, stated this would allow patients to pursue care and decrease the risk of transmission in dental offices.Read the letter.

3/31/20

AGD contacted the National Governors Association, as well as state dental boards, urging the promulgation or revision of executive orders to enable dental offices to remain available for treatment of dental emergencies, and, while balancing the needs of front-line medical personnel, that dental personnel have access to necessary PPE.Read the letter.

3/25/20

White asked U.S. Department of Health and Human Services (HHS) Secretary Alex Azar and Department of Education Secretary Betsy DeVos to take steps to increase the number of health professionals available to combat the spread of COVID-19. Since then, HHS has issuedguidanceauthorizing the temporary waiver of certain requirements of the Medicare, Medicaid and State Children's Health Insurance programs, which waived some requirements based on state licensure and scope of practice. Azar also called on states to take immediate action to waive restrictions on licensure, scope of practice, certification and relicensure consistent with changes for federal programs.Read the letter.

3/24/20

White sent a letter to Vice President Michael Pence to request the appointment of a senior administration official to the Coronavirus Task Force, specifically to oversee and coordinate PPE supply and distribution efforts.Read the letter.

3/19/20

New Jersey bill A3844 relates to business interruption insurance coverage during COVID-19. Commercial insurance policies cover most emergencies resulting in damage to property, loss of occupancy, business interruption, etc., but exclude coverage if the damages are the result of a global virus transmission or pandemic. A3844 requires any such policy to include coverage for business interruption.Read more.

3/18/20

AGD sent a letter to Congressional leaders urging them to support oral healthcare providers and their patients in any economic stimulus legislation, and, specifically, that direct support be allocated to ensure the availability of PPE and supporting dental practices facing financial hardship due to COVID-19.Read the letter.

(On March 19, 2020, AGD sent a call to action to all members asking them to contact their Senators and Congressmen to ensure the availability of PPE and the financial hardship being experienced by dental practices were considered priority issues in economic stimulus legislation. In response, 5,600 AGD members sent 17,900 letters to members of Congress.)

3/3/20

AGD sent a letter to Azar to advocate for sufficient supply of surgical masks during the coronavirus public health emergency.Read letter.
We encourage you to review these letters and stay apprised of AGD efforts to advocate on your behalf. These policies have significant impact on our practices, which is why we continue to review and respond to proposed bills, regulations and other initiatives.
Our purpose is to make sure the voice of the general dentist is always heard. Stay informed and involved. Visit AGD's
Take Action webpage
for more information.