Manuel A. Cordero, DDS, CPH, MAGD, Installed as AGD President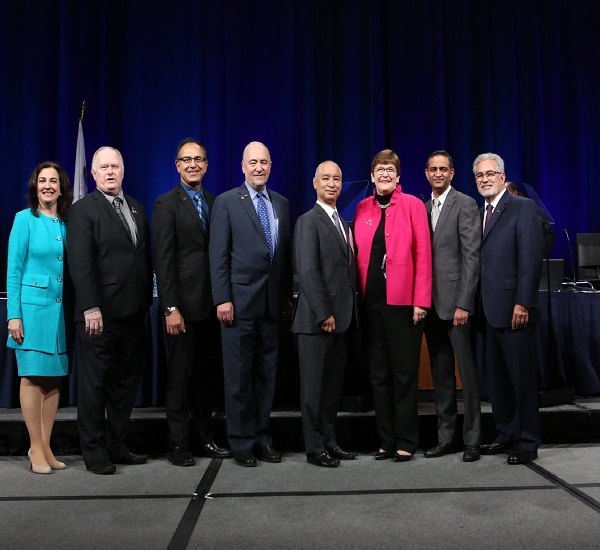 The Academy of General Dentistry (AGD) recently installed its new officers, including Manuel A. Cordero, DDS, CPH, MAGD, of Sewell, New Jersey, as president of the organization. An esteemed leader in organized dentistry and professional with more than 34 years practicing dentistry, Dr. Cordero, who was previously president-elect, will serve in this role for one year. The installation of officers took place during AGD's Annual Meeting, Nov. 3-5, 2017 in Chicago.
Officers who were elected during the Annual Meeting include:
Other AGD officers are:
Neil J. Gajjar, DDS, MAGD, of Mississauga, Ontario, as president-elect
Mohamed F. Harunani, DDS, MAGD, of Rockford, Illinois, as treasurer
Maria A. Smith, DMD, MAGD, of Shelton, Connecticut, as immediate past president

The AGD Board is responsible for establishing policy, and overseeing all of the organization's operations. AGD's officers are revered as highly professional and qualified leaders with the experience and credentials to advance the AGD mission. Each new officer has served AGD in numerous leadership roles and at the local constituent levels. They each continue to serve on boards and councils of national and international organizations.
AGD is a professional association of 40,000 general dentists dedicated to providing quality dental care and oral health education to the public. AGD members stay up-to-date in their profession through a commitment to continuing education. Founded in 1952, AGD is the second largest dental association in the United States, and it is the only association that exclusively serves the needs and represents the interests of general dentists. A general dentist is the primary care provider for patients of all ages and is responsible for the diagnosis, treatment, management, and overall coordination of services related to patients' oral health needs. For more information about AGD, visit www.agd.org.