AGD2018: Bring out the Leader Inside of You
by AGD Staff
Nov 27, 2017, 12:27 PM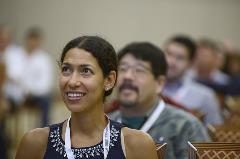 The AGD Scientific Session is well-known for its variety of intensive hands-on learning experiences, but just as important, the meeting provides three days' worth of opportunities for collaborating with peers and enhancing your personal leadership skills.
If you are a student or new dentist, our mentorship activities in the dedicated Student and New Dentist Lounge will allow you to speak one-on-one with the foremost leaders in general dentistry. Conversely, our more experienced attendees will have the chance to become a mentor for those who may be newer to the field.
In addition to mentorship events, AGD2018 will be offering a collaborative leadership course. This is an all-day workshop designed to build confidence as you develop the problem solving skills needed to achieve excellence as a leader in your practice, community and even within AGD.
For more information regarding specific courses and activities, bookmark this AGD blog page and be sure to check back periodically as courses are being finalized every day.
Register today for AGD2018 and become the leader you were always meant to be.