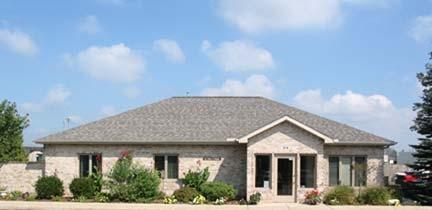 Dr. Jeffrey A. Dulude is a third generation dentist with over 25 years of experience. He attended Central Michigan University from 1978 to 1982 where he played NCAA Division 1 baseball. He graduated in 1982 with his Bachelors of Science Degree. He went on to the University Of Michigan School Of Dentistry in 1982 and graduated in 1986 with his Doctor of Dental Surgery Degree.
Dr. Dulude understands the importance of keeping up with the changing times in the field of dentistry. He uses state-of-the-art digital radiographs which reduce radiation up to 70-80%. He also has a diode laser for soft tissue surgery and treatment. His high-tech office utilizes computers in every room for convenience and smooth transitioning. The office also sends patients' insurance claims electronically for quicker and more accurate processing of claims.
Dr. Dulude is very committed and passionate about his work. He treats all facets of general dentistry for adults, geriatrics, young children, and those with special needs. With an office that is proactively oriented towards preventative care, the need to do invasive restorative work is minimized. Dr. Dulude is extensively experienced in crowns, bridges, implant restorations (tooth root replacements), extractions, root canal therapy, and oral cancer examinations. He is knowledgeable in treating and reversing the effects of gum disease, as well as using cosmetic dentistry to make beautiful smiles. He is also an authorized provider of Under Armour Mouthwear Appliances. Dr. Dulude also has hospital privileges with MidMichigan Regional Center in Midland, MI. Dr. Dulude believes "a valued smile should last a lifetime."
Dr. Dulude works with a team of highly qualified, personable and friendly staff, who will go the extra mile to make your visit a comfortable one. They all attend continuing education seminars so that everyone in the office is knowledgeable and helpful. Along with his staff, Dr. Dulude works closely with highly trained Board Certified Specialists in other specialized fields of dentistry. All of these are conveniently located in close proximity to his office. Consequently this will ensure the best care for his patients.
In his efforts to strive for excellence, Dr. Dulude exceeds all of the continuing education requirements. He is also a member of multiple dental organizations and societies such as the American Dental Association (ADA), Michigan Dental Association (MDA), Saginaw Valley District Dental Association, Midland County Dental Society, Academy of General Dentistry (AGD), and the Michigan Academy of General Dentistry (MAGD). Dr. Dulude currently serves on the Peer Review Panel for the Saginaw Valley District and has for the past 18 years. He was the Local Chair for the 2013 Mission of Mercy (MOM) Event held at Saginaw Valley State University and is the Oral Surgery Lead for the 2014 MOM Event. Dr. Dulude is also the official dentist of the L.A. Dodger Single A Affiliate Great Lakes Loons Baseball Team.
Despite his active role in the dental field, Dr. Dulude also finds time to play a vital role in his own community. He has been on the Salvation Army Advisory Board as an active member for over 16 years. Dr. Dulude is also a board member for the youth organization "The Rock". He also donates to Adopt-A-Child's Smile, Donated Dental Services, and the American Red Cross charity foundations. He understands the importance of giving back to the community that has given so much to him over the years.
Dr. Dulude is married and is the father of a son and daughter. He enjoys hunting, fishing, and traveling. The office welcomes new patients who are serious about their oral health by appointment only. Our office bills most insurances electronically as a courtesy to our patients and happily accept CareCredit as a payment option.