Virgin Hotels Chicago
Chicago Hotel Discounts

855.946.6600
www.virginhotels.com

Virgin Hotels Chicago is located at 203 N. Wabash Ave. in Chicago — just a quick cab ride from AGD Headquarters and steps away from city attractions.
Hotel Guests receive access to a 24-hour fitness center, complimentary high-speed Wi-Fi in guestrooms and common areas, a complimentary cocktail hour every night from 7-8 p.m. and five food and beverage options. Virgin Hotels Chicago also offers you the following flat rates per evening for Chamber King accommodations: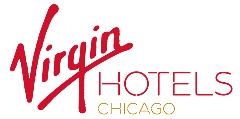 Offer Information
As an AGD member, you also will receive 20 percent off published suite rates.
AGD Rates:
April 1 to Nov. 30, 2017: $239
Dec. 1 to Dec. 31, 2017: $155
Access the Exclusive Benefits passcodes page for your direct link to savings.